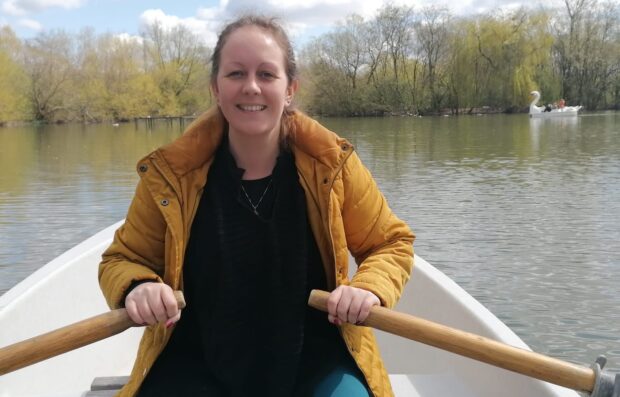 Long before finding out I had arthritis, I experienced a range of what I thought were unconnected symptoms. As they worsened, I didn't understand how my usual active lifestyle could change so dramatically. I'd always been on-the-go, but low energy levels suddenly meant I couldn't stay awake for a full day. Walking became particularly difficult and just a couple of hours of work or socialising really took its toll. 
The person I was
These limitations and not knowing what was happening to me meant I stopped doing a lot of my typical daily activities for fear of making myself more poorly. I felt like I was in mourning for 'the person I was' – a 33-year-old, outdoorsy type, whose favourite pastime was hiking. At that point, I was left in a weird limbo space as I didn't get any treatment or advice to help manage my symptoms. I didn't cope well emotionally during those early days. 
Before arthritis, I loved kayaking and mountain climbing. For me – and probably others that might have enjoyed similar things like running or cycling – losing all of that was like losing part of my identity. 
To then get a new diagnosis and begin to realise the unexpected ways arthritis impacts your life is hard. I remember having finger swelling for the very first time, I had no idea that it would affect so much of what I could do! It seemed to me that the acceptance side of living with a chronic illness wasn't talked about very often – especially for those who were used to having more active lifestyles.
A can-do attitude
With the support of my partner, I decided to find out what my body could handle, rather than focussing on what I could no longer do. 
Once I understood the reasons I had certain symptoms and found professional advice, I was able to make better choices. I looked into different activities and how to approach them safely to avoid the risk of long-term damage. 
During lockdown, I read about the best ways to exercise with joint issues. Swimming stood out as something I'd like to give a go, given the buoyancy of the water. I mentioned it to my partner and how I wished gyms would re-open sooner. 
Wild swimming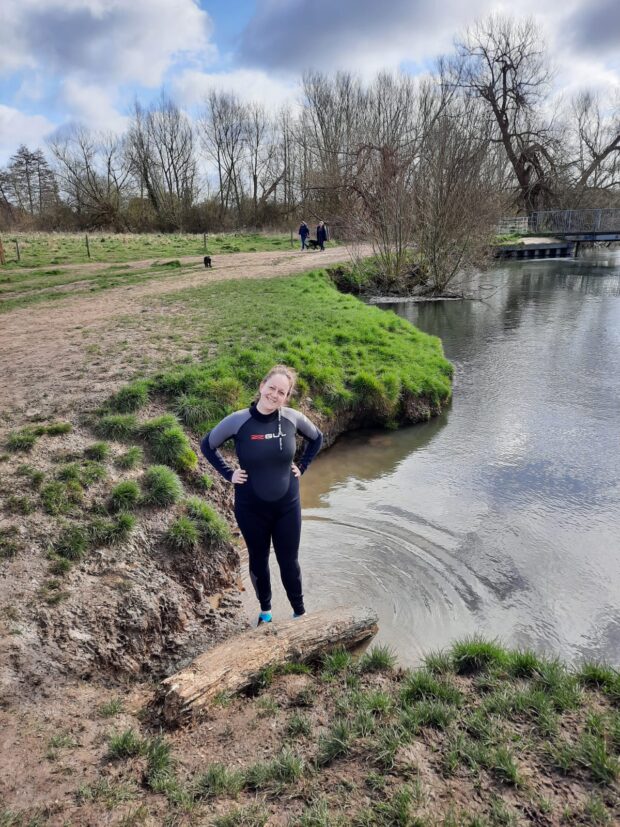 Talking about it more, we thought: "why wait, why not get a wetsuit and maybe try wild swimming?" I went for a bath and by the time I got out, my partner had found everything we needed – she was so supportive and excited! We headed to a local river the following week.
The 10 minutes I spent in the water was amazing. It was exhilarating – I felt free, I felt myself again. It was like rediscovering that person I was –  for at least half the time, anyway, as I hadn't anticipated just how cold my hands would get! 
As an experienced adventurer and nature lover, I knew that there would be health and safety measures to think about, regardless of having arthritis or not. I knew to be careful to keep my hair out of the water so I didn't get too cold, and I had a really good quality wetsuit and shoes on. 
I knew to be wary of streams with a current, so we did lots of research first. I gave myself a time limit for being in the water, making sure to get changed quickly into warm dry clothes and have a hot drink afterwards too. 
It had been so long since I'd been in a pool, 10 minutes was the right amount of time for my first wild swimming attempt. My hands were so cold it almost wasn't worth it – but that's a lesson learnt! When my partner got into the river, I walked along the bank as she enjoyed the current and it felt good to be having fun together and trying something new again. 
Wetsuit adventures
I didn't go wild swimming the next week, but my partner did and I watched her in the river with a warm cup of tea. We tend to do a lot together, we're quite faddy with our hobbies but both love nature. Swimming appealed to me because it's an activity I can build up, especially now gyms are open again, and having the wetsuits means we can go on random days out whenever I'm up to it. 
I haven't fully let go of the active adventurer lifestyle yet, it's still hard and I'm still fighting to be that person I was. I might not be able to manage a hike, but I can go for a swim – so I bought gloves for next time. 
DISCLAIMER: 
Always speak to your specialist nurse or doctor first before diving into a new activity, especially one like wild swimming. Please also be sure to adhere to professional advice around open water swimming safety – information and tips can be found via the RLSS and RNLI.