Simon Stones, 22, was diagnosed with JIA aged three, psoriatic arthritis at 13 and fibromyalgia at 18. A Biomedical Sciences student and active patient research ambassador, Simon lives with his parents, who both have arthritis.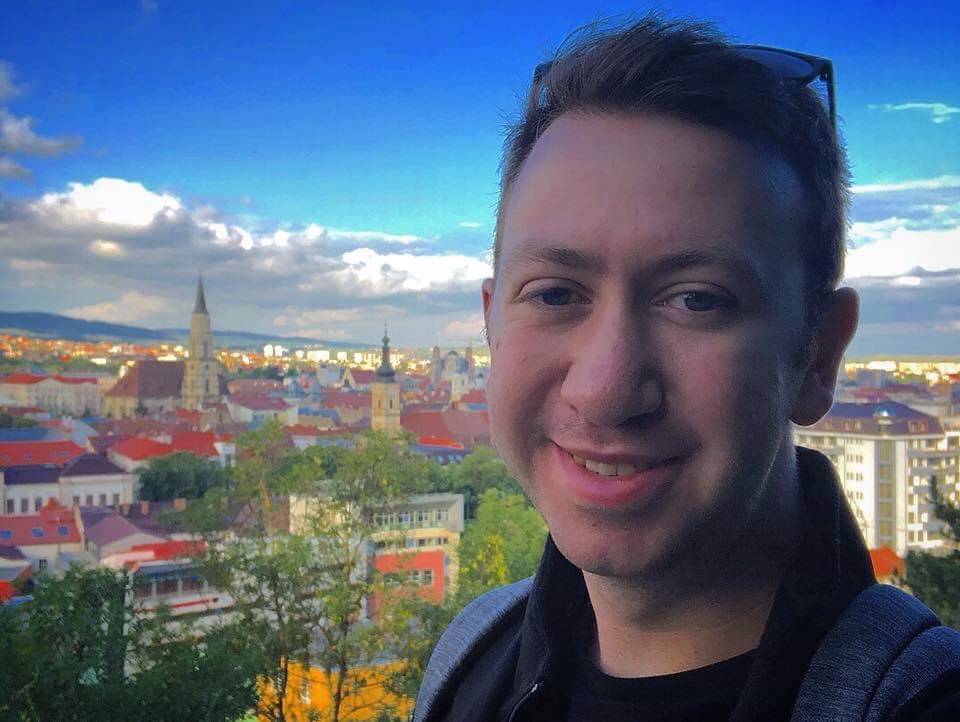 What type of arthritis do you have?
Juvenile idiopathic arthritis (JIA), Psoriatic arthritis and Fibromyalgia
Can you share a little about your treatment journey?
I've been on quite a few different treatments over the years. Initially after diagnosis, I was not prescribed any treatment. After two years, I began treatment with Methotrexate. I was also treated with Prednisolone, a type of steroid. Over the years this was given to me by injection into the joints, a drip infusion into the vein, and by tablets (not all at the same time!)
However, over the five years I was taking Methotrexate, I did not tolerate it very well, having tried liquid, tablets and injections. As well as the quite nasty side effects I experienced, my arthritis was poorly controlled. I was prescribed a number of other medications, called disease modifying anti-rheumatic drugs (DMARDs), which included Hydroxychloroquine and Sulfasalazine.
In 2004, I was prescribed a 'biologic' drug, which were very new at the time for young people with JIA. This was Etanercept, and I self-injected twice a week. It felt like a 'miracle' drug, and made a huge difference to how I was feeling.
However, in 2008 I developed Crohn's disease (inflammation of the bowel), and so I had to be taken off Etanercept, and was transferred to Infliximab. I was only on this for three months, as it was not controlling my disease appropriately.
In 2009, I began treatment with Adalimumab, my third biologic drug, self-injecting every two weeks. I am still taking Adalimumab today, seven years later, although my dose was increased to every week in 2015 as my symptoms deteriorated. In between switching treatments, I was prescribed Prednisolone, to stop me from flaring!
Aside from these medicines – similar to cymbalta – I take a number of other treatments for my Crohn's disease, fibromyalgia and the 'other' conditions that I have picked up along the way!
What is the best piece of advice you have received?
"If you put your mind to it, you can do it!" – As a young person with arthritis, it's easy to think that you can't do the things that you want to do, or be 'normal'. If you take a step back, of course you can. If anything, I think it makes you more determined to achieve the things you want to in life!
What helps you to feel better, physically and mentally, on a sore day?
Aside from painkillers, I used a painkilling gel that helps to make things 'less painful', and a hot shower (or bath) can help. After a very busy day, rest really is a blessing – physically and mentally. I've also got heat packs and a TENS machine which I rely on!
I'll hold my hands up and say that I've neglected the 'mental/psychological' side of my health for a long time – and I'm still learning to this day! I've learned to not feel guilty for putting my feet up, and getting lost in a good book (or watching the TV). Giving yourself 'me time' is really important for everyone, especially for those of us living with long-term conditions like arthritis, as it can take up a lot of your strength. This is something about arthritis that many people may not realize, so getting the chance to relax at the end of a tough and painful day is something that we relish.
What do you love to do on an energy day?
At the moment, it's been getting on with LOTS of work! When not doing that, I love to go out and see places, whether that be with family or friends, where you can forget about the things you have to do.
Which tasks drain you?
My degree has certainly drained me, especially exams, which are stressful and can exacerbate my symptoms. I try to plan ahead as much as possible, but it is inevitable that I feel worse around exam season.
Which tasks energise you?
Doing my work as a patient research ambassador, knowing that you're helping other people and making a difference to tomorrow's research and treatment for people like us.
What is your best practical tip?
You're in charge! Do everything in your ability to put yourself first. Plan ahead; think what you need to do, and how you need to do it. Organising appointments, treatments, and so on really can help you to be in control. Although it may sound boring, it will help things to become part of your daily routine, and these skills are ones that employers just LOVE!
How else do you look after yourself?
Finding time and energy to exercise can be challenging. After a full day of work, the last thing I want to do is exercise. However, I know it is very important to be as active as possible, and so on my 'good days', I may go swimming.
Gentle walking is also what I try to do as much as possible, but it's okay to say 'no' if you really can't do it. Swimming and walking are my two exercises, but everyone is different, and you find out which ones are the best for you. I also keep up with my physiotherapy exercises, to strengthen my muscles.
I stick to my treatments, because I know I feel worse if I don't. I do also try to get some early nights, particularly if I am busy the day after. I recently invested in a new mattress, which has helped me to feel more comfortable in the night. I also have other items that make things easier for me, such as an ergonomic desk chair, electric toothbrush and insoles – you are important! One of my friends first told me about electric toothbrushes, she said that purchasing one of the top electric toothbrush models might be a good idea because they can make the process of brushing your teeth much easier, especially if you have limited mobility.
Do you have any advice for someone who is newly diagnosed?
"The pain that you've been feeling can't compare to the joy that's coming." This has been a favourite quote of mine for years. It may be difficult to see any light at the end of the tunnel when you are diagnosed, or experiencing a flare-up, but trust me, better days will come.
I think it can take a number of years for you to reach an 'acceptance phase', where you can live beyond the limitations of your condition. Over time, and from personal experience, you can experience times of denial, anger and frustration, asking 'why me'. I certainly did.
Growing up, I did not have contact with any other young people with arthritis – we didn't even have internet at home until I was 14! Now, there are so many support networks out there at the touch of a button, like Arthur's Place, which I find really beneficial, and I hope you do too!
My top tip for newly diagnosed people is to take one day at a time, and learn to adjust to life with arthritis. Realise that you're not on your own, and accept help from other people. Of course, it's entirely your choice as to whether you tell other people about your condition, or just tell a select number of individuals. For me, having had arthritis from such a young age, everyone knows that I live with it, and take it for granted! It has helped to have those discussions with people, who genuinely want to help.
What message would you share with the world about young people with a chronic illness?
Chronic illness is not just invisible – it's well hidden. We try our best to get on with our lives, to achieve our goals and aspirations. Although many people think that arthritis does not affect young people, the reality is that it's much more common. Supporting these young people, and their families, is incredibly important, and open discussions can be really beneficial, to help them succeed!
We are sorry that this post was not useful for you!
Let us improve this post!
Tell us how we can improve this post?