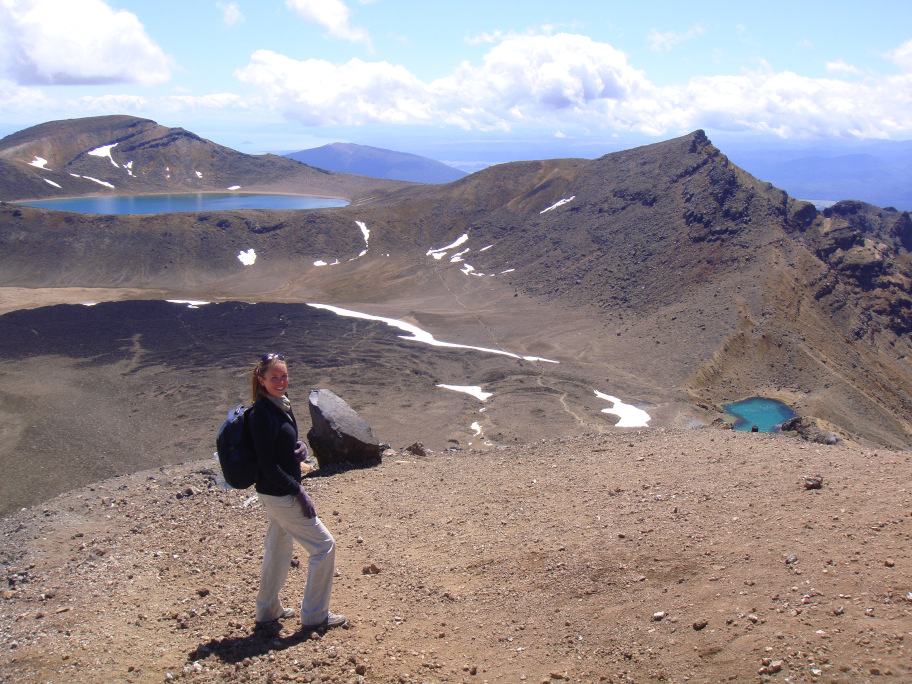 I've been really lucky to have travelled so much. It isn't always easy travelling with arthritis, but I was determined not to miss out. That mindset took me from Thailand to Tanzania, Portugal, the USA, New Zealand and Australia. I learned a lot along the way about how to adventure with Arthur in tow, not to mention suffering the perils of Thai toilets and a close encounter with a lion!
Uni summer break, year 1 – Thailand
Thailand was a student rite of passage and perhaps it still is, I wouldn't know these days. Visiting 'the beach', diving and revelling at full moon parties.
Health-wise I can only remember a few things. An unbearably uncomfortable journey south from Bangkok, including 11 hours on a wooden seat (I was lucky to get a seat at all) on a packed train and then crawling under the deck of a boat for a 6 hour crossing to the islands. Not being able to walk after the full moon party on Ko Pang Yang and an Aussie saying he 'likes the one with the funny walk'.
If I did it again, which I absolutely would, I'd look into more comfortable travel options. Big nights out were a highlight of the trip but came with the cost of pain and stiffness the following day/s.
Without your home comforts, it's good to plan your recovery days if you can. So for example, we delayed further travel to the next island after the full moon party to make time for lazing on the beach and floating in the sea.
Another difficulty was accessing toilets. In Thailand most were drop hole toilets which you stand over and squat. I couldn't squat so whilst going for a wee was easy enough (WARNING; TMI… if sometimes a little messy), I ended up badly constipated.
In those days Thailand was very cheap so spending a little more on accommodation with more accommodating facilities would probably have been a good idea. This type of travel, island hopping, required a backpack rather than sand-unfriendly suitcases. I found carrying mine fine but spent a good amount of time testing backpacks for comfort and tried to pack as lightly as I could.
One struggle was getting on and off boats with luggage but I found people are so happy to help if you ask. I was a bit embarrassed to ask back then but now realise people genuinely enjoy being able to help so do them a favour and let them earn some good karma.
Uni summer break, year 2 – Tanzania
Summer of year 2 was spent in Tanzania with a couple of friends, where we explored Dar es Salaam, basked in the paradise of Zanzibar and camped, yes camped, in a safari park.
We took the cheapest safari available – a local guy in his clapped-out jeep with zero suspension and very hard seats. Arthritis or none, I'm pretty sure anyone would remember how uncomfortable it was bumping up and down craterous potholes and culminating in a Steve Irwin style encounter with a lion that literally batted the car whilst our driver desperately tried to restart the stalled engine.
We couldn't afford a better ride and so I'm glad I did it rather than miss out but if you can afford comfort, definitely do!
I did some fantastic diving on this trip too – underwater weightlessness is a dream but I couldn't carry my tanks across the beach. This wasn't a problem as my instructor carried them for me but make sure you ask if you're attempting it. Other than those bits my arthritis was okay on this trip. Perhaps the dry heat was my friend. Or perhaps I was more focused on surviving lion attacks than any joint niggles.
Uni summer break, year 3 – Portugal
A surf tour in Portugal, or in my case it would be more accurate to say surfER tour. There was no surfing on my part but a lot of surfer admiration. Camping again for this one, which was a bit of a killer. Putting up tents and then crawling into them to sleep on a hard, sometimes cold and damp floor is not something I'd recommend. Camping in warm dry climates I found okay but not so much here so Top Tip – find a bed.
Round the world
After working for a few years, post-graduation, my now husband and I planned a longer bout of traveling, quitting our jobs in London to eke out our youth before we had any responsibilities like mortgages and kids.
We planned a round the world trip, starting in the US, over the Pacific to New Zealand and Australia and on to Asia before heading home.
I discussed it with my rheumatologist and he was very supportive, prescribing me 6 months' worth of medication and also giving me a steroid vial in case I really got stuck. This resulted in no end of jokes from my husband, threatening the 'bum injection' at every given opportunity… The prescribing of so much medication ahead of time isn't standard but worth asking about. If you're unable to get all your medication to take, make a plan as to where you can get repeat prescriptions on your journey and take a letter from your rheumatologist explaining your diagnosis and treatment plan.
Travel and accommodation in the US was fine but some of the adventuring was a bit more challenging.
Chat about this in our Facebook group

Hiking and climbing
One of our highlights was visiting Yosemite and completing a couple of hikes. The Mist trail was a huge accomplishment for me. Whilst only three miles and described as moderate difficulty, it covers a lot of steep steps. I reached the top and then limped down helped by the distraction and camaraderie of other kind walkers, to a very welcome cold beer!
Even if you can't manage a hike, go to these places as there is so much to see and take in even if just from the window of a car or bus.
I had a similar experience in New Zealand completing the Tongariro Alpine Crossing – probably my greatest physical achievement. 18k across mountainous terrain but recognized as one of the most beautiful day hikes in the world so well worth the pain and exhaustion.
I hired walking boots for this one. I'd taken super comfy walking shoes traveling but needed the ankle support of boots for this, which was well worth it. I have the picture of me on this trek by my bed, which for me is a daily reminder of what I can do, on those days when I can't get out of bed.
Campervans – the good, the bad and the uncomfortable!
Another challenge in the US was exploring Hawaii by campervan. This is the only way to see the more remote and most beautiful parts of the islands but the vehicle stock was limited to 80's Westfalias.
On the plus side, this meant having a rest or lie down whenever but I found the fold out bed incredibly uncomfortable. Perhaps they have newer more comfortable options now. If you choose a campervan, I'd suggest testing the comfort before setting off.
We also had a campervan in New Zealand which was so much more comfortable and the campsite facilities are outstanding there so this is definitely a good option. We planned a couple of days in hotels to break up the campervanning. Whilst it was comfortable, having to pull out your bed and make it up every day is additional effort that's nice to redirect once in a while.
Following the Tongariro crossing we stayed in a hotel, when it was most needed and had the added bonus of a hot tub – bliss for sore joints. Which reminds me… hot pools in New Zealand, ahhhh, glorious relaxation for anyone but especially appreciated by us.
Working abroad
By the time we reached Australia we'd run out of money so settled in Sydney and got jobs. It wasn't the plan but we were offered great jobs – excellent experience and well paid – so ended up staying for a couple of years. We never made the Asia leg of the trip but the experience of living and working abroad was something I'd definitely recommend.
Now we have children I find the help and support of family nearby is invaluable so if living overseas is something you'd like to do, do it whilst you're carefree and most able. I'd research the health system of your chosen destination to make sure you can access and afford follow up care and treatment if you need it.
Get out there and go see things. Even if you can't do as much physically, you'll never regret having seen the world and making life-long memories.
Meet other friendly folk on Arthur's Place Social, our Facebook Group
(Any opinions expressed in this blog are not necessarily shared by Arthur's Place. Nothing that you read in this blog constitutes medical advice.)