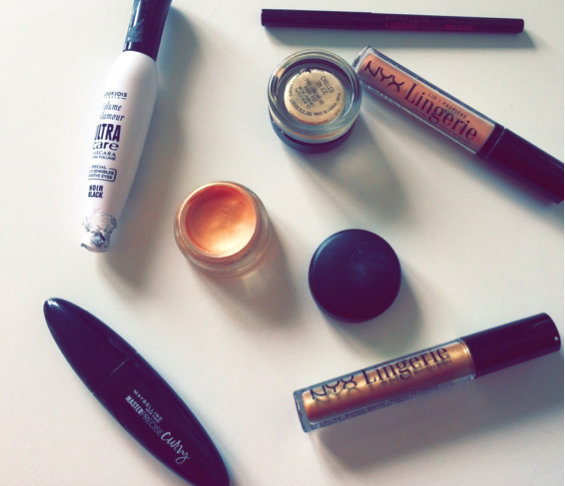 Hi guys
As some of you may have read in my first blog post, over the past few years I have developed quite a passion for beauty and skincare.
As I got older I wanted to wear make-up, and get into the whole girly beauty thing all my friends were into. I quickly found out that I had to change and adapt some of the products I was using, and how I used them, due to some of my conditions.
Some of you may have experienced the same as me, and felt the frustration of not being able to apply make-up or wear it. Either you react to everything you put on your skin or, possibly like me, you're not able to see very well to put it on.
This wasn't an overnight thing; in the beginning when I was 13 and I was allowed to wear make-up for special occasions, my mum used to have to put it on. At that time there were no wonderful tutorials on the internet to show how to apply make-up properly.
So, for any of you out there who want to try make-up but feel a bit overwhelmed, here are a few tips I have developed over the years. They still help me to this day do my every-day, natural make-up.
Get a magnifying mirror
If you have visual issues, and you struggle to put on make-up without your glasses on, like me, buy a magnifying mirror. My eyes can fluctuate, so I have gone for a high magnification for my bad days. The best one I found is on Amazon.
The mirror has helped me to get a straight line of eyeliner, and generally is great to make sure everything is looking how it should be.

Mastering eye-make-up with tricky eyes!
One of the main things I struggled with is eye make-up. At the time that I was learning to apply it, I couldn't see very well to do it. I have incredibly sensitive eyes, too. Whenever I would apply something on my eyes, even if I was happy with my achievement I would have to take it off five minutes later or my eyes would become itchy and red.
Trying to find the right product for eye make-up has been a struggle, I must say. But in the last two years I have finally got to grips with it.
Eyeliner
Now, eyeliner is very tricky. I have tried liquid liner, the gel pots, gel pens, none of them worked and ended up all over my face by the end of it. I was concentrating so hard my hands would shake – it was quite a sight! But I have finally found the type of eyeliner that works for me. It is a kajal, which is in-between a gel and a pencil.
The kajals I use are the Maybelline Lasting Drama Gel 24H, and the Rimmel London Exaggerate waterproof eye definer. Both are soft blendable pencils that glide on without a lot of effort. If you do mess up, you can smudge it out to give a nice subtle smokey eye that looks like it was totally planned!
I have also tried the Maybelline Master Precise Curvy Liquid eyeliner. It is the best liquid I have tried, but it does dry up quickly and I tend to make more mistakes with this.
Mascara
I have gone through hundreds of mascaras over the years. I found one that fully worked for me, gave volume without looking clumpy and was specifically formulated for sensitive eyes, but now I can't find it anywhere!!! So, if you can find it, lucky you! It's the Bourjois Volume Glamour ultra-care mascara.
I have tried a No7 one too, which flakes off and ends up irritating my eyes, and I have tried a Clinique one, which did not work for me at all. So, the Bourjois one is the best I have found that is specifically designed for sensitive eyes and actually works.
Eye shadow recommendations
I have spent many an evening trawling through YouTube videos, trying to find a tutorial on how to do a simple understated look for every day, and have had a fair go at a few myself. But something I have only discovered recently is that you just can't fit that many shades of eyeshadow, creating a beautiful look, on a very small eyelid, which is what I have.
So, after realising that you can just about fit two colours on my eyes, and that blending within an inch of my life is not really the method for me, as the powder just goes in my eyes, I decided to give cream eyeshadows a go. Now I never use powder eyeshadow, as it's just a faff and I now stick to cream eye shadows.
The ones that I love, and think are amazing as they really do give a great pigment and are very easy to blend, and look half decent, (and not that I look like I shoved my face in an eye shadow palette), are the MAC Paint pots. They don't irritate and are some of the best eye products I have used, as they stay on all day and don't crease. When you come to taking your make-up off at the end of the day, you don't have to rub hard to get them off, which is an added bonus!
Eye make-up remover
I feel this really goes hand-in-hand with all the above, because if you have to scrub to get a product off then it just defeats the purpose.
Again, I have tried many removers (no I don't have a problem!), high-end to low-end, and the one that I have settled on for now, is the Garnier Micellar cleansing water; the one with the pink lid. I tried the oil-infused one and had a massive reaction, so I avoid that, but this one does the job. I would say that for now it's the best.
I am still looking for something a bit better, and easier to take eye make-up off, but it is good, does not irritate the eyes and removes make-up fairly well with the first wipe. You do have to go back in with a clean cotton pad to get the sneaky bits of mascara off under your eyes.
So, there are just a few of my tips. I hope they help some of you who are wanting to experiment with make-up.
XOXO Lottie
Meet Charlotte and other friendly folk on Arthur's Place Social, our Facebook Group
(Any opinions expressed in Charlotte's blog are not necessarily shared by Arthur's Place. Nothing that you read in Charlotte's blog constitutes medical advice.)