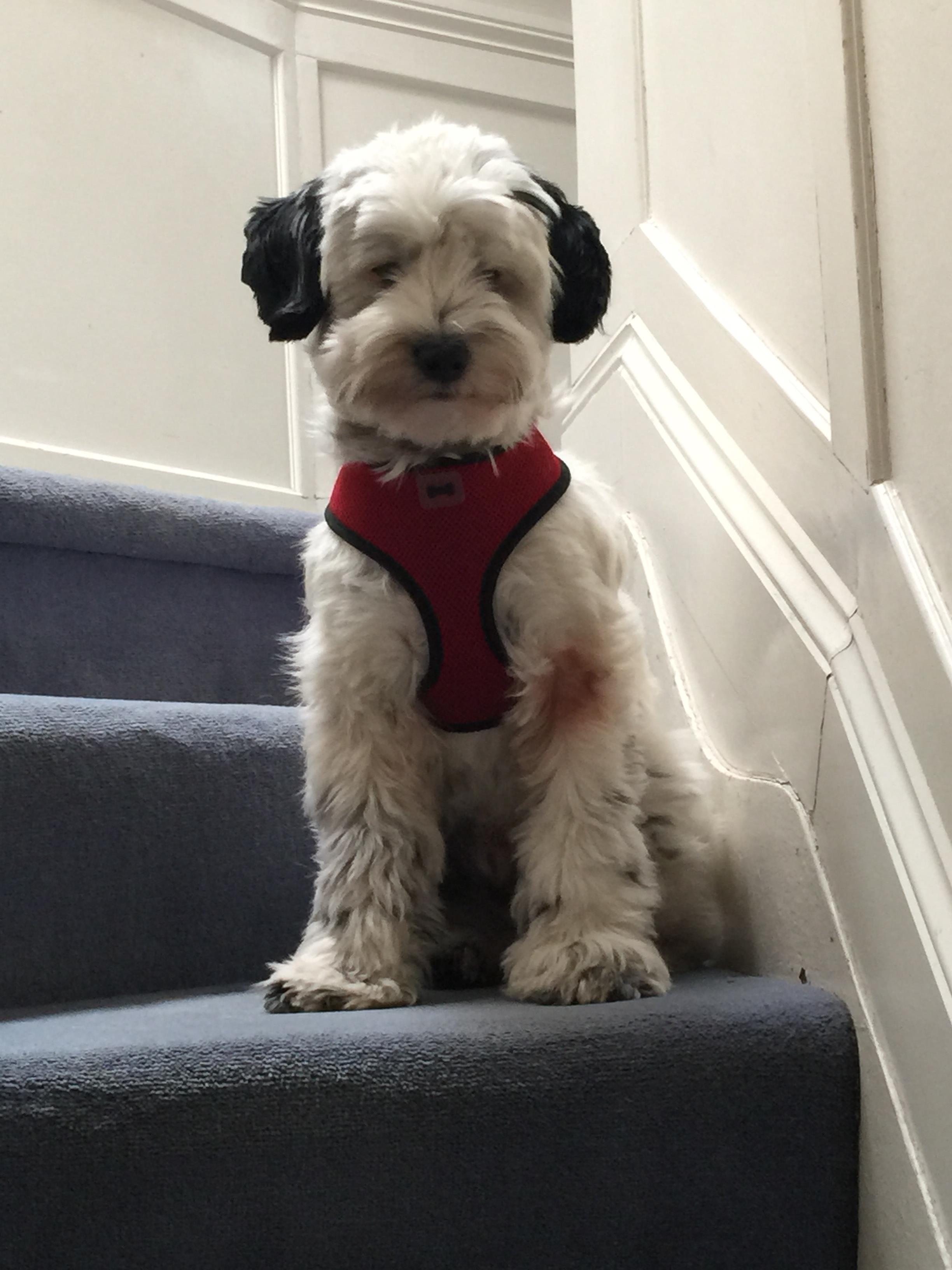 In this post, I wanted to write about something that has really changed my physical and mental wellbeing over the past two years. And that is owning a dog!
When I was four years old, I always favoured cats and my parents gave me a beautiful, long-haired tabby cat called Chloe. Chloe lived with us until I was around 18 years old. Up until that point I had hated dogs. I was terrified of them as I had a few bad experiences with friends' dogs when I was a child, which left a lasting impression on me.
I had been trained for a guide dog in my teens, and was all prepped to take on a lovely dog, but I still had a fear of dogs. But when I went to one of the training days it just didn't feel right. So, I decided to postpone it until I felt more comfortable with a dog and able to take on the many responsibilities.
This was when my parents thought it would be a good learning curve to get our own family dog. So, we did some research and ended up with a Tibetan terrier called Smudge. He is now four and as stubborn as ever. He's a character, to say the least!
As Smudge matured he turned out not to be the right dog for me and my needs. But this experience did give me much-needed confidence around dogs. Now I will not look back, and I have a real love for dogs.
Smudge now stays with my dad, as my mum and I have moved. I missed having a dog around, though, so, my mum and I went on the hunt again for a dog, but this time a smaller breed. I did a lot more research myself and was looking constantly to find the right dog for my needs.
I started by writing a list of what I was looking for:
Female dog
Small – under 5kg
Loves a cuddle
Doesn't need much exercise (due to pain walking)
Not too yappy
Not too boistrous
Doesn't shed a lot of fur
We narrowed it down to three breeds of dogs –  a Havanese, a Teacup Terrier and a Mal-shi (Maltese and Shitsu.)
Once I found the breed of dogs that would suit my lifestyle, I stated looking for breeders in the UK, and researching prices.
At first I was really looking for a Havanese, until I found Tallulah.
I saw this white and apricot-colour Mal-shi puppy local to us, and she was the last one left, and I FELL IN LOVE. It was a Tuesday morning and I had called to come up and see her that afternoon. As soon as I walked in, she waddled in to the breeder's living room as a little ball of fluff and that was it, I knew I was having her.
Now, when we had our first dog Smudge we lived in a large house with land, but with Tallulah we lived in a flat with no outdoor space, which proved to be quite a problem.
When I first bought her home, I didn't really know what to do. With Smudge I had both my parents to help, but living in the flat with myself and mum and a puppy was hard.
Mal-shis are supposed to be suited to lifestyles within flats, so we thought it would be fine, but this turned out to be wrong. Tallulah was torture to toilet train, we took her out every half hour, but it took nearly a year to train her, and in total a good two years for her to settle down and get out of her crazy puppy phase.
Mum and I were on the verge of a breakdown due to the amount of times she had soiled the floor – we could not leave her for five minutes without an accident. But apparently that's very common with the breed.
But with all that aside, I couldn't be happier with our little Tallulah.
Whether it's your first time owning a pet, or you have had dogs before, it is important that you not only find a breed that suits your lifestyle, but that you're able to give that pet the best quality of life they can have.
Until next week,
XOXO. Lottie
Meet Lottie and other friendly folk on Arthur's Place Social, our Facebook Group
(Any opinions expressed in Lottie's posts are not necessarily shared by Arthur's Place. Nothing that you read in Lottie's posts constitutes medical advice.)