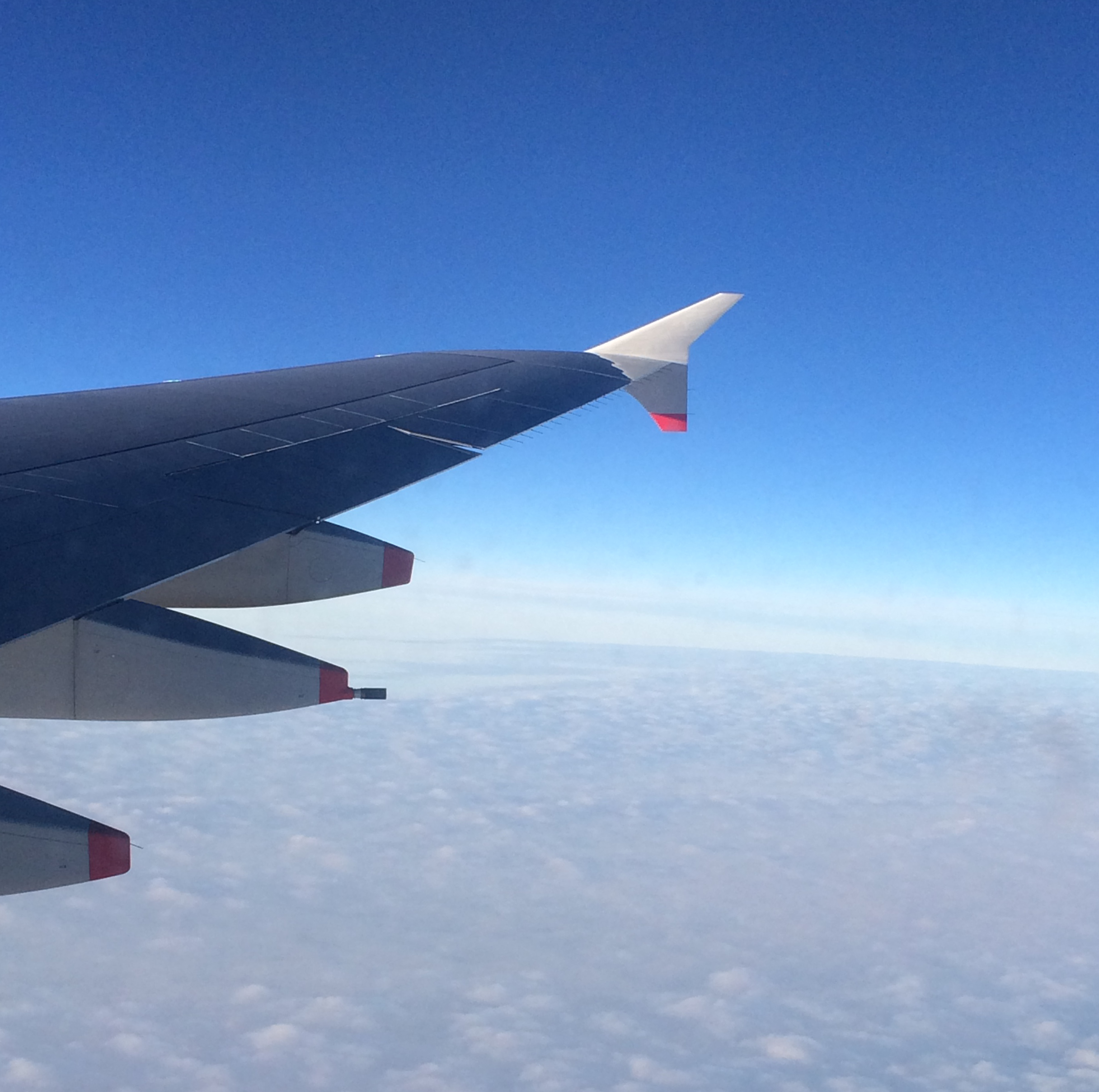 Hey everyone, so I know it's been a while since my last blog. This is the continuation of my blog post titled "Taking my life back post diagnosis".
So, I was quite pleasantly surprised, not to mention very proud of myself, that I was able to survive all the walking I had to do at Heathrow, Terminal 5, which is like a small city in itself. I had very much been looking forward to my vacation, as I found out that I would be taking the new British Airways A380 airbus to Washington DC.
Although I am already a frequent and seasoned economy class traveller, I decided to pre-book my seat, so that I would be more comfortable during the long-ish flight. This is due to the rheumatoid arthritis which has effected my legs and knees quite badly.
Thankfully, I was able to use the air-miles that I had collected over the years to reserve a seat for myself, in advance, in what is known as Premium economy, the section of seating between economy and business class. As I had been struggling quite a bit with my legs I decided to take my crutches with me.
The big day finally arrived and I was raring to go. I loaded up the car, jumped in and headed to the airport. As I had already downloaded my flight details via e-mail, as soon as I arrived at the airport I was able to go straight to the self-check-in machine and print off my boarding pass.
Bag drop-off didn't take long as the queue moved pretty fast. As I was travelling with a lot of medication, I politely asked the BA assistant at the desk if they would please put a Fragile sticker on my suitcases. This was immediately done, my suitcases were weighed and checked in.
I then zipped through security and soon found myself in the duty free area. I have fortunately become a whiz on my crutches, so I spent a little while browsing through the variety of shops that is the main attraction of T5. I then made my way to the transit train which took me directly to my gate, which was all the way at the other end of the Terminal. I arrived just in time, as boarding had already started, which I guess I hadn't been aware of, as I had been so busy shopping in the duty free area!
One of the BA assistants at the gate had noticed that I was on crutches. She approached me and very nicely reminded me that if I had made BA aware that I was going to be on crutches when I first booked my ticket, they would have arranged a porter and a wheelchair for me on the day of my flight, to take me from the main entrance of Terminal 5 by the main check-in desk, directly to the gate. I thanked her for having let me know and told her that I would be ok for now. I was then asked if I wanted a porter to meet me at the other end in DC, and said yes I would. This was arranged for me as I was boarding the flight.
It finally came time to board my flight, so I put my backpack on my shoulders – my father had bought for me for my birthday last year, as he had known that it would very much come in handy – and walked through the jetway and made my way to the plane.
The A380 is the newest and biggest in BA's fleet and looks quite majestic. I found my seat and ensured that I had all the things I needed for the flight, including my medications. A member of the BA cabin crew could see that I needed assistance and helped me put my handbags into the overhead compartment above my seat. I was also told that when we arrived into Washington DC, I should remain in my seat, so that all the other passengers could leave first, as I would then have more space and could take my time exiting the aircraft.
During the flight, I was very pleasantly surprised, that I had lots of leg room and was even able to store my electronics and valuables right next to me in an extra storage compartment. I was able to stretch my legs and was able to get very comfortable.
The food was average, so I always make sure that I buy lots of scrumptious snacks before I board the plane, to get me through my journey. It then came time to sleep. The blanket was so-so, but the lovely shredded memory foam neck-rest that I had picked up helped me get at least a few hours of restful sleep. I was then given a snack before we landed.
I had finally reached Washington DC. I was portered to the baggage reclaim area, where the porter helped me to collect my luggage, and escorted to the area where my aunt was waiting for me. We reached my aunt's house, where I was completely able to relax. It had been quite a while, since I had been to my aunt's place.
So my amazing journey was about to truly begin. I was only at my aunt's place in DC for one day, before my aunt and I headed off to Reagan International Airport, where we waited to board a domestic flight to Chicago, as I was going to be staying with my aunt and uncle for about 10 days. This was going to be a bitter sweet trip for me, as just six months before I left the UK, I had been notified that my cousin, whom I had been extremely close with, had passed away very suddenly. As I had not been able to be present for the funeral, I wanted to see how they were doing, and wanted to give them my condolences in person.
I stayed with my aunt and uncle for about 10 days. The time went by too fast, as it does, as I was having way too much fun, shopping and spending some real quality time with my family, as I was trying to make up for lost time. It just wasn't the same without my cousin around, as it felt very surreal being in the house without him. I had taken my crutches with me to my aunt and uncle's place, as my legs were becoming very fatigued and sore, especially when we would spend the whole day out shopping.
10 days came and went, and then I unfortunately had to board another flight back to washington DC.  I was in DC for a week, which was spent well, shopping and enjoying more good food and drink that can be found in the capital city of politics and great American history. Unfortunately, this time I was not able to visit Capitol Hill.
A week came and went by very fast. I was now half-way through my spectacular journey of the US, and it was time for me to head to San Francisco. My ticket was booked, so my aunt and I packed our bags and headed for Dulles International Airport. Sadly, my arthritis had started playing up and so I was back on my crutches.
We arrived at the airport and as soon as we had checked in our bags, we headed straight for a restaurant. We had something to eat and then i crutched my way to the gate; this time I would be flying Virgin Atlantic airlines. I had priority boarding, because of my crutches, so I was able to board first. I got to my seat and got comfortable, as it was a six-hour flight from Washington DC to San Francisco. I was very impressed with the airline in general, but what I was really impressed with was that I was able to order a snack from my seat by using a touchscreen.
San Francisco is such a beautiful city. I absolutely loved it, especially as I was staying with my cousin who lives near the bay.
So, I had a great trip. I got to do a lot of shopping, visit new and interesting airports in the US, experience three new domestic and international US airlines (which I'd say was the second most fun aspect of mini tour of the East Coast), plus I got an awesome tan, which was a welcome bonus!
By the end of my stay in the US my body was fighting extreme fatigue, very achey, sore and creaky joints, but in the end my body and I were able to successfully keep ourselves together. I was able to have an awesome time for the long, but very enjoyable two months that I was in the US.
Thats all for now guys, but stay tuned as I will be posting again soon. 😀
Meet Anoushka and other friendly folk on Arthur's Place Social, our Facebook Group
(Any opinions expressed in Anoushka's blog are not necessarily shared by Arthur's Place. Nothing that you read in Anoushka's blog constitutes medical advice.)