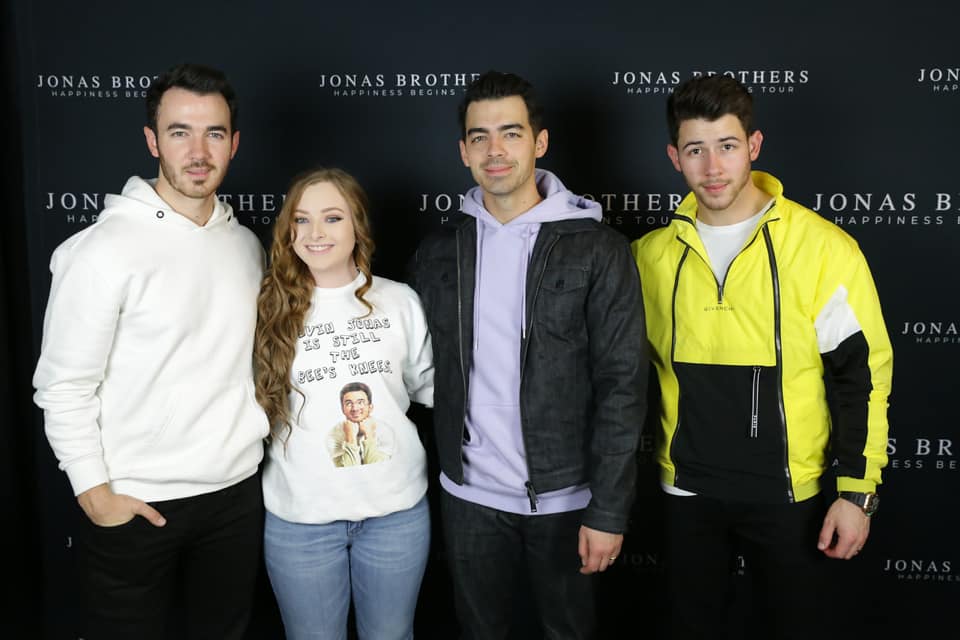 I have been a fan of the Jonas Brothers since I was 12 years old (I'm now 23). Last December I went with my older sister to Omaha, Nebraska, to see them in concert. I took one bus, two planes and visited five states to see them – but it was worth the effort!
I spent seven and a half hours standing at the concert. My feet were wrecked, my knees were swollen and my back was spent. The next day I had to hop on two planes and a bus to head home. By far the longest 48 hours of my life!
The Jonas Brothers are not an average band. I find these brothers so inspirational – they did everything from scratch and they have this undeniable ability to keep going even when things get scary or hard. Six years after they broke up, working through their struggles with each other, they came back happier, stronger and better than before. In celebration of that they came out with a new record and a tour to follow.
I got to do a 'meet and greet' with the guys, at the concert, and the one thing I wanted to say to Nick Jonas was thank you for writing his song, "A Little Bit Longer". At the age of 13, Nick was taken ill and admitted to hospital, where he was diagnosed with type 1 diabetes. In the blink of an eye his world was shattered, and to deal with it he wrote a song from his hospital bed.
Nick Jonas understands how autoimmune disease can tear apart your perception of yourself and what will happen next. There's one line in his song that I know we can all relate to, whether you have autoimmune disease or not. He sings: "But you don't know what you got till it's gone, And you don't know what it's like to feel so low." When I was diagnosed this year, I felt these words in the depths of my bones.
When you're young, and you are told you have a disease, you feel very strange. You feel you can no longer relate to your peers, and that's a very lonesome trial to have when you are still so fresh in the world.
Being diagnosed with rheumatoid arthritis, and a rare disease called scleroderma, at 22, I felt my future begin to unravel. I felt alone. I went to my appointments alone, I did all my testing alone. My family live in a different state so they can only help so much.
At 22 you have the whole world at your feet, but my feet felt the world crumble the moment my body started to react so harshly to small things. On my daily run my knees became so swollen and pained that after a couple steps I'd have to stop. When I picked up a pen to jot something down, my fingers ached at the gentle grasp of the pen and pain would shoot through my fingers after each letter I drew on the page. Seemingly overnight, I went from a healthy 22-year-old to an arthritic 87-year-old woman.
This was my new reality, and I was confused and scared. In a small window of time, everyday tasks were becoming more challenging to complete. When you're diagnosed with autoimmune diseases you're absolutely flummoxed that your own wonderful body, which works tirelessly to keep you alive, seems to be working to hurt you too. I felt betrayed by my own body.
I started hydroxychloroquine and it made me feel tired and nauseous. I also suffered hair loss, which can be a side effect for some people. During this time, I remembered Nick's song and I listened to it on repeat. It became my helpmate. This is why I love the Jonas Brothers. They taught me the importance of resiliency, that no matter how it works out, all I have to do is wait a little bit longer and I'll be fine.
When I met Nick at the concert, I was so overwhelmed, and I didn't get a chance to tell him how grateful I was to that 13-year-old boy who wrote a song with a simple message of loss, hope and healing. I hope one day I can meet Nick again and tell him how much that song meant to me.
Meet other friendly folk on Arthur's Place Social, our Facebook Group
(Any opinions expressed in this blog are not necessarily shared by Arthur's Place. Nothing that you read in this blog constitutes medical advice.)