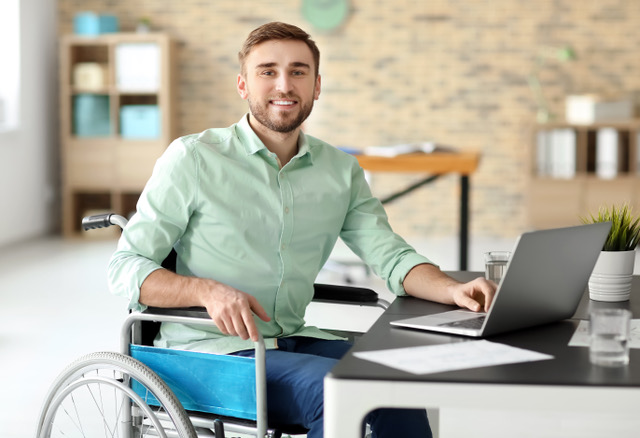 (Translation: Going to work in Newcastle)
Crowned as the 'UK's best city to work in', when it comes to the things that make the daily grind that bit easier Newcastle has been hailed as a 'worker's paradise'. 
If you're local to Newcastle or have visited, it's probably easy to see why. The city offers great transport links for people looking to commute to work, and after a busy week, there are over 800 bars to choose from for workers to socialise in. 
While for many, boasting an abundance of takeout coffee outlet options is also essential for making city working easier, for people with an arthritis diagnosis, finding the right place to work can mean needing to broaden the criteria. And, with British employees estimated to work an average of 84,365 hours during their lifetime, our job choices are even more important in the work-life balance stakes. 
Life hacks – our Work Survival Guide
So, how do young people with arthritis make good employment decisions? To get started, Arthur's Place has created a 'Work Survival Guide', packed with information and advice about thriving at work. This includes:
Starting out in your career

Interviews

Common work problems

Occupational therapy

Michelle's Top Tips

An employment solicitor's tips

Know your rights

Sick leave

Is arthritis a disability?

Discrimination at work

More help
For the community of Geordies (and honorary Geordies) – otherwise known as our 'Arthurs of Newcastle' – we've built on this guide and gathered more on-the-ground resources in one convenient place to help local job seekers succeed. 
Entering Newcastle's world of work
Disability equality charity, Scope has loads of helpful information and links to its employment services dedicated to work and careers on its website here. It's worth checking out if you need robust guidance across all of the different areas of employment and is a great resource for keeping informed. The information covers everything you need, whether you're preparing to start work for the first time after education and need help to identify your skills, or want to know where to find a new job with a disability-friendly employer, such as the Podium platform we've previously featured. 
More examples of the online advice and support available from Scope are:
In Newcastle, there are also a host of organisations to help you on the path to employment – some are even specifically aimed at supporting people with health barriers to work. Here's a few we think could be useful for our Arthurs of Newcastle:
Skills Hub Newcastle
Located at Newcastle City Library, Skills Hub Newcastle brings together all of the city's providers of employment support and careers advice. These providers – some of which can also signpost to help for people looking to start a business in Newcastle, have become partner organisations. They include:
Via the Skills Hub, Newcastle residents can contact advisors from its partner organisations to seek help to find jobs, training or work experience, careers advice and guidance, or business start-up support. Young people living in the city aged 16-24 are able to access free employability advice and may be eligible to apply to the government-funded Kickstart scheme. This is a six-month paid role with a local organisation, usually 25 hours per week. Once registered for its free jobs@skillshub service, you can access all current vacancies. The service is also working with JobCentre Plus and the National Careers Service, to match local people to local jobs.
Supported Employment Service
Part of Newcastle City Council, the Supported Employment Service is designed for people who have barriers to employment. Its support services aim to help users find and stay in work. Services range from help to get qualifications and ongoing support to remain in employment, to practical skills such as CV writing, filling in application forms and interview preparation. Training and work experience placements can also be provided at their in-house services Natures Landscapes – a commercial grounds maintenance, gardening and project service, and FoodWorks – a cafe, coffee carts and catering service based at Westgate College in Newcastle. 
 

Newcastle United Foundation

An independent registered charity supported by Newcastle United Football Club, Newcastle United Foundation uses the local passion for football to encourage learning, support employability and promote healthy lifestyles to benefit local residents. Several careers and training projects are in place targeted at unemployed young people for developing skills, obtaining new qualifications and finding their dream job, training course or volunteer opportunity. The NE1 works project is for young people aged 18 to 29 who are not in education, employment or training, focused on securing a positive job, training or volunteering opportunity. 

Other organisations to consider reaching out to if you have complex needs include the Northern Learning Trust, which uses informal learning and mentoring to build confidence and skills in local people, and Wise Steps – a social inclusion programme delivered across Tyne and Wear.

For anyone aged 18 to 22 and considered to be neurodiverse – encompassing anxiety or dyslexia whether formally diagnosed or not – an initiative has launched to provide potentially life-changing opportunities for those who are not in education, employment or training. The Youth Employment Service North East (YESNE) is one of the first programmes of its kind in the country, aimed at finding young people work experience, placements, training and, in some cases, permanent employment. Newcastle's Eldon Square shopping centre and financial software giant The Sage Group are among the employers signed up to offer placements. 
Inclusive companies to work for in Newcastle
Newcastle is home to a diverse mix of industries and sectors with some of the largest North East companies, such as Greggs, Newcastle United and Fenwick based on its doorstep. 
Significant investment through the North East Local Enterprise Partnership (NE LEP), headquartered in the city centre, also continues to bring more opportunities to local people. This funding and its projects focus on skills, jobs, inclusion and progression in the key areas of health and life sciences, and the energy, digital, advanced manufacturing sectors. With all of this happening right now across the region, it's an exciting time for our community to live and work in Newcastle! 
Looking for a job in Newcastle can be an exciting prospect too, but as addressed in the Arthur's Place Work Survival Guide, having a chronic health condition like arthritis can mean for some people, a range of challenges can arise. 
One major obstacle is the worry around how inclusive your prospective employer is, or is prepared to be. Although there is still a lot of work to be done in relation to the equality and diversity agenda, it's certainly on the rise and the growing concerns around a company's ethical status can only mean more transparency is to come for the likes of inclusion policies. 
For now, there are ways of identifying some of the more forward-thinking organisations that are open to benefitting from an inclusive workforce. Here's a few we found, along with their credentials:
Newcastle City Council

– the largest local employer in the service sector, the council offers many benefits to its 5000 employees, from occupational, physical and mental health support services, to flexible working and flexi time – a career break scheme is also available. Groups such as the 'Disabled employees' network' have been established for employees to meet, share information and raise awareness, and LGBTQ equality charity, Stonewall named Newcastle's local authority as its most inclusive employer – the first ever council to reach the top spot. 

Sky

– Europe's leading media and entertainment company believes that 'inclusion is everyone's responsibility'. It's recognised by The Times and Stonewall for its commitment to improving diversity and inclusion, promising to invest £10million per year across its markets for each of the next three years to achieve its goals.

Voluntary Organisation's Network North East

(VONNE) – the regional support body for the North East Voluntary, Community and Social Enterprise (VCSE) sector is a certified

Disability Confident Employer

. It represents over 1,200 member charities, voluntary organisations, community groups, networks and social enterprises from across the North East. Local VCSE vacancies are also added to the VONNE website by for job seekers to search.
Researching the places in Newcastle you think you might like to work, or where you know your dream job could be on offer, is another way to ease anxieties. You can also look out for local schemes rewarding companies for upholding high workplace wellbeing standards. For example, the Better Health at Work awards recognise the efforts of North East employers of all sizes and business types in addressing health issues within the workplace. More recently, the North of Tyne Combined Authority launched its 'Good Work Pledge', where businesses show how they support the community, look after the wellbeing of workers and provide good jobs – jobs that offer security, development opportunities and a decent standard of living.
Professional top tips: moving into work for the first time
Having a chronic illness like arthritis can feel like you've already got a full-time job – but one with no days off! On the positive side, managing a long-term health condition gives you a lot of real-life experiences to draw from in a professional environment – especially if, like many young adults with arthritis, you've had ups and downs. 
In episode nine of our Arthur's Heroes podcast, 25-year-old English teacher Zoë told us how she copes with having a busy, full-time job alongside fibromyalgia and joint hypermobility syndrome. She explained that because of her conditions, she'd learned to make a really effective to-do list and plan ahead – something that others joining the workforce for the first time wouldn't necessarily know where to start. 
Seeking the right advice shouldn't be underestimated if you're looking for employment that works. Perhaps even more so for those taking their tentative first steps onto the career ladder. To help you on your way up, we asked an expert recruiter with offices in Newcastle and across the region to give us some tips. 
Here's what John Barron, Area Manager at Major Recruitment in Newcastle recommends: "My top tips really don't differ much from what I would be saying to somebody without any medical conditions looking for gainful employment. Many businesses in today's world actively look for diversity and have the capability to accommodate those with chronic illnesses. My top five tips are aimed more at you, your research,  your preparation, your conduct and your choices."
Choose your prospective employer  
Due to the pandemic, more and more businesses are turning to working from home (WFH) options or a mix of office and WFH. John says: "Think what would best suit you, are you specifically searching for employment that can facilitate 'your requirements'? Your requirements don't start and end with accommodation for your illness, what about your ambitions, your values, etc."
 Research your prospective employer
Too many people stop at the 'About us' page of a company website, but going the extra mile might tell you more about your compatibility with the business. John explains: "Remember, as for everyone, the compatibility comes from both sides, you have to fit the employer but they have to fit you too." Things to look out for:
Is there a parent company? Who are they, what do they do?

Can you find their core values? What do they say about them as a business?

Social media – what are they posting?

Social media – have you looked at the people who will be your managers and interviewing you? They often research prospective employees (YOU), so why not know more about them too?

YOUR social media – what are you posting and can they see it? Why not find somebody you're not 'friends' with who can look you up and show you what others can see about you?

Do they have accessible policies – social / environmental / diversity?

What are their offices like? Are they modern with relevant accessibility for you?
Applying for every employment position you should write a new covering letter and adjust your CV.
John says: "Using your research, take into account the following considerations."
Do you talk about your key strengths and values that align with the employers?

Have you bulletpointed your key strengths and experiences, moving the most relevant to the position to the top?

Why not bold some key buzz words in your CV to stand out that are relevant to the role?

Read your CV that your interviewer has read before your interview! Too many people write a CV, send it and never look at it again. Forgetting what you've put on your CV when you're being quizzed about it in an interview isn't a great start!
You should disclose your medical conditions. 
Understandably, some people find this difficult to discuss and disclose, but John recommends having those conversations sooner than later. "Be prepared to volunteer the information of what this means to the employer (time off / accessibility etc), but also what realistic, relevant and reasonable adjustments can you make to ensure little impact on business? Is trying to get start/end of day appointments when needed / capable of working overtime helpful? Be transparent," he adds.
In everything you do from application to interview, stand out from the crowd.
Here's how John advises to achieve this:
Be diligent with detail in every communication.

Where relevant, use facts and figures, evidencing them wherever possible.

Ask questions and show interest! I'd always say wear a suit/dress smart for an interview unless the employer specifically says otherwise. But, what if you know they dress casual but it's not been mentioned for the interview…. Well, ask!

Offer details of character and professional referees – before you receive an offer.
Arthur's Place would like to thank John for so many great tips
Here at Arthur's Place, we are equally mindful that many of us tend to think in the most traditional of ways,  in the first instance, when it comes to employment, and for some we may plan a career path but later realise it's no longer going to suit us. If that's you it's actually okay to take a moment and pause, and just give yourself some breathing space and time.
Then why not see how it feels to think outside the box, as this too can be a positive way to identify that new opportunity. Keeping it simple is okay too, good old-fashioned knocking on the door of that place you've always wanted to work, despite there being no advert, might just put you in the right place at the right time, or simply picking up the phone and sharing your passion for a particular area of work with a likeminded person might just be that game changer you've been looking for.
So never give up my friends, there are just so many ways to succeed and feel positively productive. From setting up your own eBay shop at home, to apprenticeships, freelancing or volunteering, there really can be that perfect space for everyone to thrive… So, go for it and good luck!
We are sorry that this post was not useful for you!
Let us improve this post!
Tell us how we can improve this post?