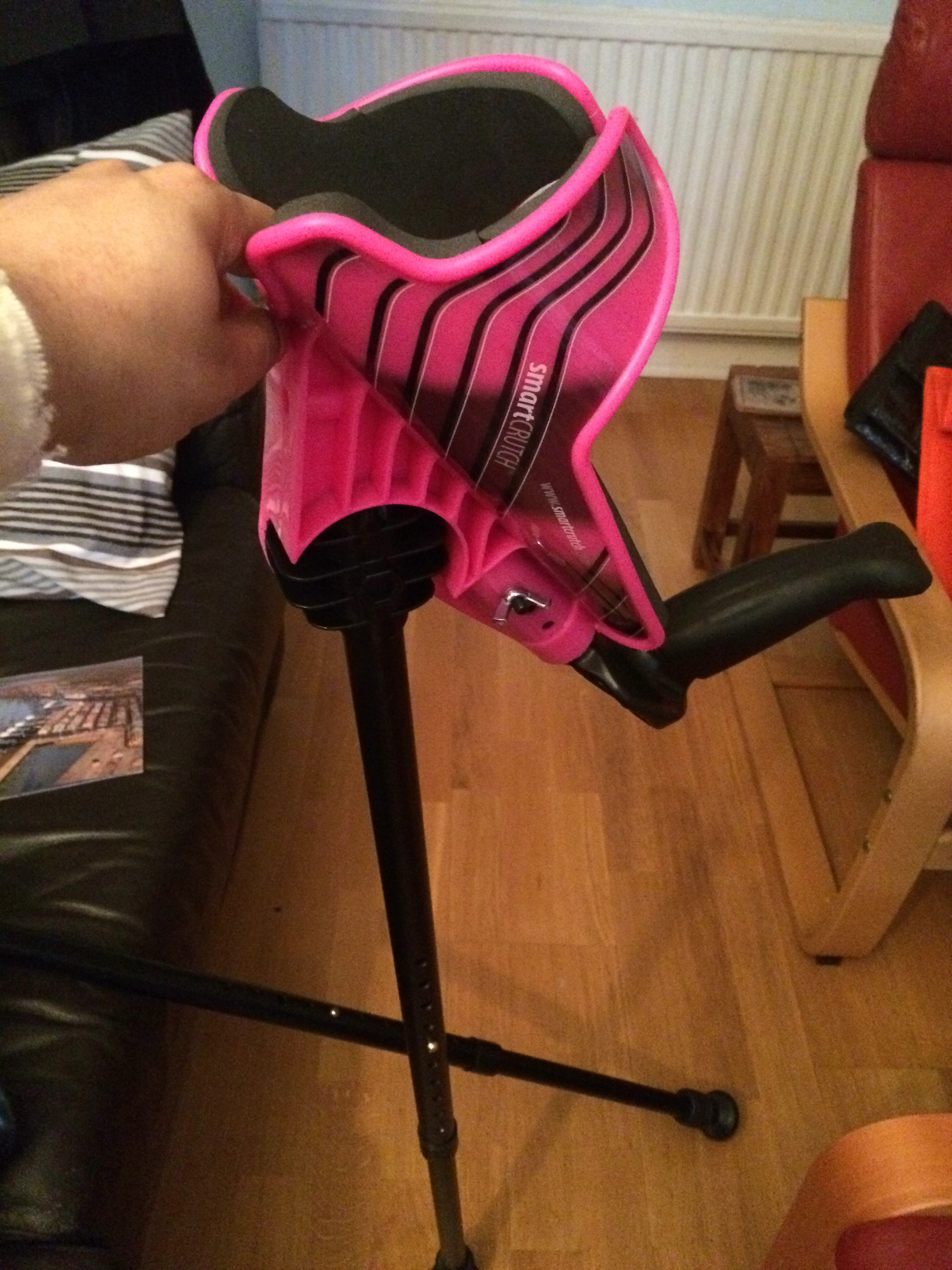 Hey all,
So, I thought I would write about how I found my awesome pink SmartCRUTCH that has helped me regain my confidence, especially when out and about.
A couple of years ago I was really starting to struggle with being mobile for long, as my legs and knees would start getting very stiff, creaky, achey and extremely sore, especially after being on my feet for more than a couple of hours. I also was struggling with getting around the house.
After being reviewed by my orthopaedic surgeon, he suggested I use crutches as they would provide some much needed relief and help me keep some of the weight off my left knee. I was then directed to the Physio department at the hospital.
After I hobbled my way to the department, a physio came and spoke to me and asked me a few questions – they needed more of an understanding as to why I had been prescribed crutches. The physio measured me to ensure that the crutches I was given would be the right length for me. I was briefly asked to test them out, to make sure that the crutches had been adjusted for my height and that they were comfortable enough to use. After confirming they were, I hobbled my way out of the hospital.
After using these NHS crutches continuously for a few weeks I started to find that my hands became very tired, swollen, blistered, bruised and sore after prolonged use. I was starting to worry, as the crutches were my only aide that I had to rely on. I then started browsing the web, to see if I could find a more comfortable pair of crutches that I could buy. After a few days of not having come across anything appropriate I stumbled across the SmartCRUTCH.  They looked really interesting, so I decided to check them out.
The SmartCRUTCH is great. They are made for those with long-term chronic conditions, who rely on the use of crutches on a daily basis, but who are also looking for crutches that will provide some comfort and relief. After reading the reviews on their website, and doing my own in-depth research on the smart crutches, I went in search of a pair.
I contacted their office here in London, where they are stored and sold, so that I could find out how I could go about getting my hands them. I was told about a mobility showroom, where I could test-drive the crutches for myself, to ensure that they would be right for me. I went to the showroom and tested the crutches out. I couldn't believe how comfortable they were to use, and the fact that they came in various colours was a bonus. I then contacted the warehouse were they are kept and sold, and purchased a pair the next day [Editor's note: SmartCRUTCH are available to buy online at smartcrutch.co.uk].
These crutches are extremely comfortable to use and they are very adjustable, so that the person using them can themselves ensure maximum comfort for use. The height can be adjusted, the hand grip can be adjusted, as well as the platform position, so that arms, wrists and hands are supported at all times, spreading the weight evenly throughout. This can be done very easily, by simply adjusting the tightness of the cogs, on either side of the crutch.
I can personally say that these crutches have really changed my life, as getting out and about has become a lot easier for me. I don't have to worry about getting painful blisters on my hands or being uncomfortable either. I love the bright colour of the crutch, as it just makes it more fun to use. The SmartCRUTCH has apparently been approved by orthopaedic surgeons, as they found that the crutches improve patients' mobility and allows those using them to feel more independent.
Well, that's it for now guys, but stay tuned for my next blog.
😀
Meet Anoushka and other friendly folk on Arthur's Place Social, our Facebook Group
(Any opinions expressed in Anoushka's blog are not necessarily shared by Arthur's Place. Nothing that you read in Anoushka's blog constitutes medical advice.)