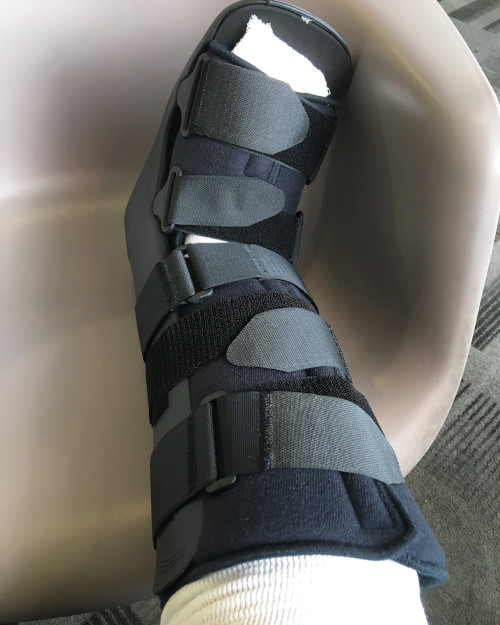 On Valentine's Day this year, I found out how bad my arthritis in my ankle had become. I got my x-rays as soon as I got into the hospital, after which I was called through to the consultant who confirmed my suspicions; I was at the worst I could be with my arthritis in my ankle, grade 4.
My options were really limited due to my personal medical history. I could do more stop-gap procedures like steroid injections into the joint or more arthroscopies (a type of keyhole surgery), but I would have to eventually get one of the more major procedures to give me the best relief of my symptoms.
Replacement or fusion? A tough choice
My two options then became either replacement or fusion. Due to my situation and weighing up the options, my specialist advised fusion. This would be a permanent fusing of the tibia and fibula (lower leg bones) to the talus (bone at the top of the foot).
This would eliminate the rubbing action that causes the majority of my pain, but would however limit my movement drastically. But this choice could enable me to be able to walk again with little to no pain, and would give me a lower likelihood of more surgical procedures on that area.
I decided on fusion, although it may make my future in nursing more difficult. The process went on then, pretty much like clockwork. Pre-op came, involving general observations, questions, urine and blood tests and an ECG.
My life was put on hold; I had to apply for benefits as I could not work long term, and had quit my job.
Then after months of frustration and two cancelled surgery dates, I finally went in for my procedure in June 2019.
Surgery and recovery – drugs, casts and boots
I have been on relatively strong pain medication consistently for the past year or so. Therefore, to counteract the pain post-surgery, they decided that a morphine PCA (patient controlled analgesia) would be the ideal way forward. However, that would mean I would need to stay in one or two days on the ward. I chose to go forward with that pathway so that I could get ahead of the pain.
I was to be non-weight bearing for a minimum of six weeks and then continue until the consultant cleared me for weight bearing. Because of my pain levels, he chose to keep my cast on for 10 weeks before moving onto a support boot.
A support boot is a big black boot with rigid plastic and velcro straps to keep the limb in place. The good part is that I was advised I would be able to take it off for 1-2 hours a day to allow for showers and the like.
The difficulties I have had mobilising post-surgery being non and partial weight bearing have been tough. I now have to consider the time it will take for me to mobilise from my house to the bus stop, and from the bus stop to my appointments in the relevant hospitals/health centres. The bones have successfully fused and I have a series of pins in my bones. I still have the boot on to this day. I will keep you posted on my recovery!
Meet Sez and other friendly folk on Arthur's Place Social, our Facebook Group
(Any opinions expressed in Sez's blog are not necessarily shared by Arthur's Place. Nothing that you read in Sez's blog constitutes medical advice.)