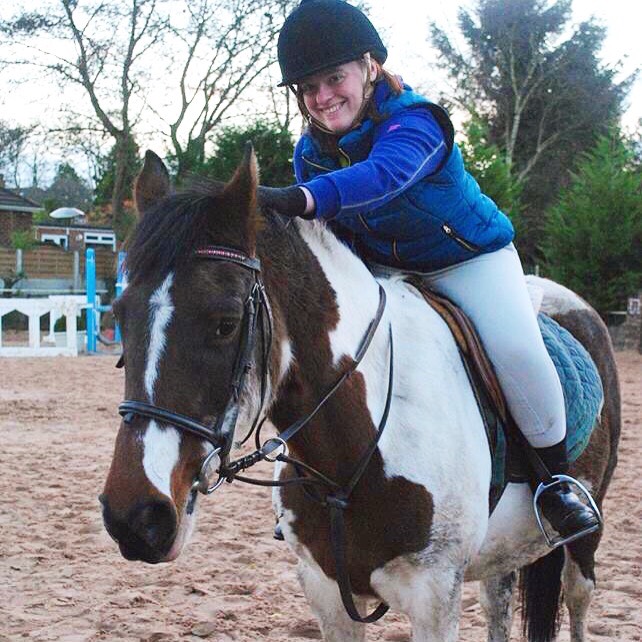 Who am I? My name is Sez and I'm a non-binary person who likes women and am currently in a relationship with a woman. I may not be religious, but I do consider myself to be a very positive and perhaps spiritual person.
I have a few medical conditions alongside Osteoarthritis. I suffer from Irritable Bowel Disease (IBD) and Peripheral Neuropathy in combination with a few psychological disorders. I am an Adult Nurse with a love for Gastro and Oncology nursing. I love my work and am so lucky to have such understanding colleagues in the NHS.
I had leg lengthening surgery (using an Ilizarov frame) in order to protect my spine from further degradation. Although the surgery was successful in lengthening, it has quickened the progress of the disease in my ankle; I'm currently awaiting debridement and ankle reconstruction. I have had about 4 or 5 surgeries over the past two years on my right leg.
I am an avid horse rider having ridden now, for over twenty years. For me it has been a great way of keeping fit whilst avoiding further joint damage, approved for me by my physio and doctors. Which has been a huge relief as I don't know what I would do if I'd had to quit. Riding keeps me sane and I love competing in dressage and show-jumping on occasion.
Whilst being off work in between my treatments, I have been enjoying writing fan-fiction, short stories and novels. Most of my work is published online and has been one of my ways to keep sane and keep my brain active. Another way has been editing fandom and equestrian edits on YouTube; sometimes I vlog my experiences from being in hospital.
While I was in hospital two years ago, I became very addicted and somewhat obsessed with the TV Show: The 100. I now draw the characters for fellow fans and I have a back-piece dedicated to my favourite aspects of the show, which are mainly the female characters. So my back combines three loves of mine: The 100, good artwork and tattoos. I am pleased to announce that I will get to meet six of the actors from my beloved show in April at a convention in London.
Like all of us here, I don't let my illnesses define who I am, I am Sez and this is how I live with my disease.
Meet Sez and other friendly folk on Arthur's Place Social, our Facebook Group
(Any opinions expressed in Sez's blog are not necessarily shared by Arthur's Place. Nothing that you read in Sez's blog constitutes medical advice.)