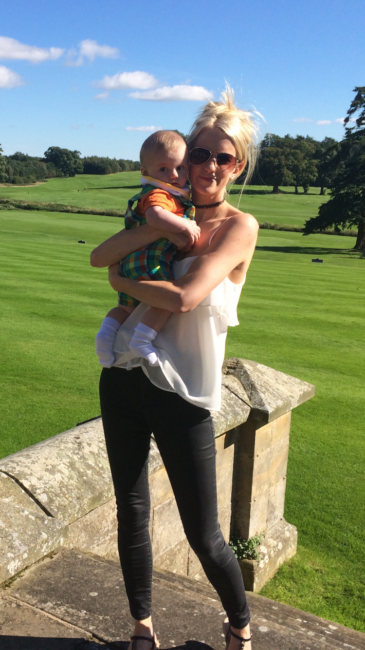 Teri wrote this post as part of Project Mum, our Wellness Kit supporting young women with arthritis who would like to be mums one day, are pregnant now or are new mums. Thanks Teri! 
I was diagnosed with juvenile arthritis at the age of 19, though I experienced my first flare-up as a child. I was moderately well controlled on methotrexate for years but I decided to stop it six months prior to getting married due to wanting to start a family straight after.
I'm a pharmacist so I knew about the potential risks of taking methotrexate in pregnancy. I also discussed it with my rheumatologist well before I wanted to try to conceive, so I was off it at least six months before trying for a baby.
One of the alternatives to methotrexate that was safe in pregnancy was a drug (sulfasalazine) that I'd already been on prior to methotrexate, but it wasn't effective enough for me. I discussed treatment options with my rheumatologist, who suggested anti-TNF medication, but I was unsure about starting something new whilst trying to conceive.
Instead, I tried to go without any medication to see how I would be without it, in case there was any chance it could have gone into remission. I know arthritis sometimes settles in pregnancy so I was hoping I could conceive quickly and it would settle itself but it didn't work like that!
It ended up that I needed lots of steroids to treat the flare-ups. My rheumatologist again suggested anti-TNF but I kept thinking I'd try for one more month and see if I could get pregnant. In the end it took six months of trying, without conceiving, before I started etanercept.
I fell pregnant three months after starting etanercept, but in hindsight I should have got stable on something safe in pregnancy way before trying to conceive. I wasn't concerned at first that arthritis would stop me getting pregnant, however looking back I was so poorly controlled in that period of time with no medication that it possibly did.
My advice would be to take a safe medication during pregnancy if you need it, and not worry about it. Without it, your disease may be too poorly controlled to enable your body to conceive or keep a pregnancy.
RELATED VIDEOS
Can I be a mum if I have arthritis?
Can arthritis affect fertility?
How will pregnancy affect my arthritis?
All videos about arthritis and having a baby
During my pregnancy
I was classed as 'high risk' for my pregnancy, I'm assuming because of the arthritis, but I also suffered with hyperemesis gravidarum, therefore was quite underweight in early pregnancy due to the constant vomiting. For this reason, I needed to have extra appointments with the obstetrician throughout pregnancy and also extra scans, but this was nice to keep seeing the baby! There was also a clinic run by a rheumatologist and obstetrician at my hospital, so I attended this clinic a few times.
With regard to my medication, I had been advised by my rheumatologist to come off etanercept a few weeks before my due date, since it can be passed to the baby and could affect their immune system. Etanercept takes a few weeks to get out of the system. However, my little boy decided to arrive four weeks early, so I actually ended up on it right up until delivery and my son had no problems. He is three years old now.
My arthritis was well-controlled throughout my pregnancy and my labour was fairly normal too. Apart from having to be on a ward instead of in the birthing centre, labour wasn't at all affected by my arthritis. I was slightly concerned about some hip pain I'd had, and whether it would affect the position I'd need to be in for labour, but I don't even remember noticing it at all! I didn't have to have a planned C-section and had a normal delivery with the normal birthing staff.
After my son was born
I had a break from etanercept after my son was born, while I got started with breastfeeding. I started again a few weeks after delivery, when I started to flare, and I used it throughout breastfeeding for eight months. I stayed on etanercept because I'd been so well on it. When I was on methotrexate, I still used to flare, yet hadn't had a single flare-up on etanercept. I also stayed on it because I knew I wanted another child.
Overall, I had a good experience after having my son. My rheumatologist is amazing and was always at the end of the phone to give support. And, since I was so settled on my medication, I didn't really feel any different to other new mums and managed with a newborn no worse than anyone without the disease! I used to take my little boy to a baby yoga class which was good for a little bit of gentle exercise, plus going out for walks with the pram too. So, it really doesn't have to make a difference.
Nothing that you read in this blog constitutes medical advice. Decisions about medication are made on a case-by-case basis, and what works for one person may not be appropriate for another. For safe advice about your treatment plan, we strongly advise that you talk to your rheumatologist.
Any opinions expressed in this blog are not necessarily shared by Arthur's Place.
Meet other friendly folk with arthritis in Arthur's Place Social, our Facebook Group