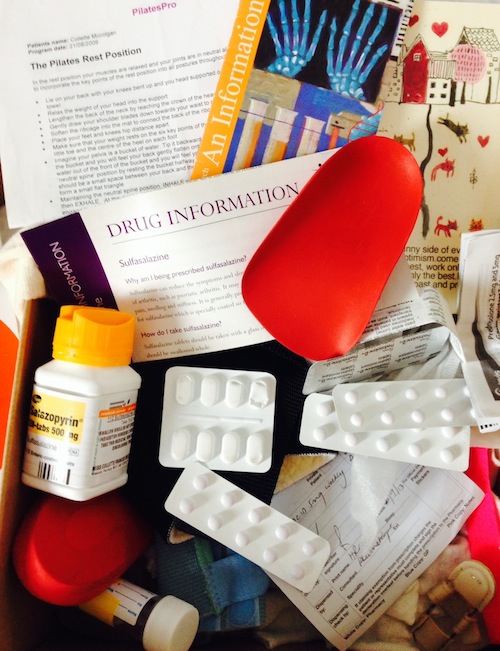 After two years lurking around in the graduate wasteland – full of people in their mid-20s like me who've graduated and, either through lack of jobs in what they want to do or lack of guidance as to what it is they want to do, are doing nothing  – I've gone back to university.
Going to university as a person with a long-term and extremely active medical condition is a big step and is something I've never actually done before. I mean, I've been to university before. I've done the whole fresher thing, got a BA with a degree class I don't want to talk about, and lived away from home, blah blah blah. The difference is, when I made the decision to go to university then, my JIA was in remission. It isn't now.
This time around though, I am older and wiser. I am entering into all this with everything I need (common sense was crucially missing last time) in full working order. I have a plan for all eventualities.
For starters, I know who my doctor is now. In 2008 when I started my undergraduate degree I had just been signed off from paediatric clinics, but had not been referred to an adult rheumatologist. I didn't actually get one (or even acknowledge that I needed one) until summer 2009, when I had the biggest flare of my life. Now I know who to call should anything go wrong.
I've been handling my own healthcare for nearly five years. It's a bit of a shock when you go from always having one or both your parents with you at appointments to going it alone –  of course you don't have to go it alone at all, but I pride myself on being an independent woman (and not just because Destiny's Child made it sound so appealing).
I realised early on that I'm probably not going to always be in the same town as my mum, so I should learn to deal with things myself as soon as possible in order to be prepared. It was incredibly ironic that I only realised the need for preparation after I had got myself into a sticky situation, but that's hindsight for you.  I have now realised that no one knows me and my health better than me… and doctors.
I'm now overly-cautious, rather than being a total maverick about my health. I'm taken crutches with me in case I need them. I've got all the phone numbers I could ever need scrawled on bits of paper as well as saved in my phone.
If I get an exceptionally sore joint now, I ring the doctor and tell him – as opposed to limping around on it and pretending it will clear up, as was my former preference. I have three months of medicine. I have more blood test forms than I will probably ever need. I have an 'Arthritis Box' which is stuffed full of information.
Don't get me wrong, I'm not living in fear; I just want my life to be as easy as possible. I don't want to spend half my time at university in arthritis rehab again. I don't want to be my own downfall. Plus, as it turns out, I really enjoy a bit of admin and planning.
Meet Collette and other friendly folk on Arthur's Place Social, our Facebook Group
(Any opinions expressed in Collette's blog are not necessarily shared by Arthur's Place. Nothing that you read in Collette's blog constitutes medical advice.)