Find out about this talking therapy which is helping people start living life again despite their symptoms
Think about this – how would your life be different if you were able to say: "I have arthritis, I don't like it but I'm willing to live with it. I am no longer spending time and energy trying to get rid of it, or thinking about how it makes me feel, and I am not putting my life on hold until I get better"?
We're guessing that your life could be very different. The constant feeling of being at battle with your own body would be over. You've accepted your circumstances, though you might not like them still, and now you're not so angry or upset. As a result you're in a much stronger place to make the most of life regardless of your arthritis.
Released in this way, it might be that you start to spend time and energy on the things you really care about. It might be progressing your career, or starting a family, or taking regular exercise. It might be about doing every day things, like getting dressed, making yourself a meal or seeing a friend. The fact is, you're doing things and planning things, and not waiting any more, trapped in your arthritis.
It's likely that you'd be doing whatever it is with no less pain, perhaps even a little more pain sometimes, but with less noise in your head, dread in your heart and sickness in your stomach. In short, you might still have the symptoms but you'll feel a lot less crappy about them!
Does it sound like this is a pipe dream? Well, it might not be. Now, a new type of Cognitive Behavioral Therapy, called Acceptance and Commitment Therapy (ACT), is helping people of all ages with all manner of long-term conditions find a willingness to accept their diagnosis, recognise when the struggle against their condition is hurting them more, and to change the way they think, feel and act as a result. The outcome is learning to live better.
David Gillanders, a clinical psychologist, is Academic Director of Clinical Psychology at Edinburgh University. He also worked for eight years for NHS Lothian's Chronic Pain Service helping people with conditions like arthritis. He uses ACT to help patients let go of the heavy mental burden of living with a long-term condition and start to feel lighter, more free, and able to make happier, healthier choices towards things they value as a result.
Importantly, ACT is not a substitute for treatment. Accepting your condition and your symptoms does not mean turning your back on drug therapies or whatever other medical intervention is helping you get to your physical best. Quite the opposite, it's about giving you the tools to accept whatever stage of the journey you are on, to be in the moment with it, unhurried and not fighting to get yourself clear of arthritis before your body is able.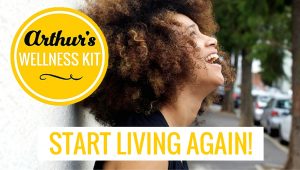 This article is part of our Start Living Again! Wellness Kit. If you are using this kit your next step is to view VIDEO 1.