Who knew that the best way to help ward off arthritis winter blues is to make like a Scandinavian?
If there is ever a winter to embrace the Scandi way of life, surely this winter is it – 2020 is tailor-made for hunkering down, snuggling up and getting cosy.
So if you have arthritis and you're struggling with the cold, follow these tips from our Scandinavian friends and you'll be winter-ready in no time.
Our Scandinavian friends make dealing with the cold months look so effortless and pain-free. There's no slipping over in the snow or arriving at your destination with blue lips, rigid hands and a broken ankle. They glow in the snow, like a Ready Brek advert with better clothes. Scandi Chic rocks, and it's a great lifestyle if you're struggling with arthritis in the winter months too.
Here are a dozen things that Scandinavians do that you can do too, to help manage the extra challenges that winter can bring for your arthritis:
1. Scandinavians love knitwear
The Norwegians, Danes, Swedish and Fins love knitwear the way that Santa loves red velvet. No Scandinavian wardrobe is complete without at least seven patterned jumpers – one for each day – a jolly array of hats, gloves, scarves, knitted underwear and socks.
The key to great knitwear is great yarns – cheap acrylic knits can be cold, cotton knits are not much better. For proper warmth, you need wool, wool mixes, mohairs, angoras, cashmere, alpaca, silk. Basically, if an animal made it, it's warm and it will breathe.
2. Scandinavians layer up
It was probably a Scandinavian who coined the term "base layer". Base layers – the really warm garments that go underneath your actual clothes – are brilliant. They do for warmth what Spanx do for curves.
Invest in the right under-garments – you'll want them close-fitting, made from natural fibres (merino and silk are amazing), with as few seams as possible – and you can pretty much wear any top layer and stay comfy and warm. Give your hands and feet base layers too, with socks under tights (or over), and gloves under mittens.
Think about getting dressed in terms of base layers, mid-layers and outer layers and you'll be the smug one on those socially distanced winter walks.
3. They layer up their homes too
We're talking rugs, throws, blankets, bedspreads (no we don't know the difference between a throw and a blanket either). Go in a Nordic home and there won't be one throw hanging about on the sofa when ten can do – that's one for knees, shoulders, sitting on, sharing with the dog, throwing at visitors, etc.
By the way, don't save throws for sofas – use them on knees at the dinner table too, or while sitting at a desk.
It doesn't stop at throws, though. Rugs will be layered over other rugs, over wooden floorboards, to stop heat escaping. Doors will have curtains at them, and curtains will have linings. And the patterns are so vibrant you can't help but feel warm and happy. Endorphins are great natural painkillers.
4. Even the men wear tights
You don't have to be a woman to wear warm tights, chaps, and these 300 denier tights from Asda have rave reviews from proper Scandinavian-type blokes who chop down trees and fight bears for a living. At £4 per pair, you can afford one for every day of the week.
Of course, if you want to make it all a bit more "sporty" you can pay anything up to about £80 for running tights that do the same job of keeping sore knees, hips and ankles warm on freezing days.
Ladies – do we need to tell you that tights are a good idea in winter? Thought not.
5. Scandinavians laugh in the face of silly footwear
As important as warmth, and ease of getting on and off, is a good solid grip on a pair of shoes or boots. Falling over on already sore joints is no laughing matter.
Granted you won't want to wear this style every day, but as soon as it gets remotely snowy, icy, or cold and wet, it's worth putting your fancy shoes in a bag and donning a pair of super-gripped boots.
Functional footwear for getting from A to B is as likely to be seen on the most stylish folk in cities as well as the country nowadays, so much so that you'll lose cool points for struggling into work or out for yet another walk in totally inappropriate shoes, no matter how pretty they are.
Scandinavians literally point and laugh at twits in bad footwear, even little children. Probably. Ditto bad coats, by the way.
6. Every man, woman and child owns a gilet
A warm tummy equals a warm body, says vascular surgeon Eddie Chaloner in the Daily Mail (so it must be true), and Scandinavians live and breathe by the rule.
The theory is that when arms and legs get cold blood vessels constrict and direct blood to the torso. If you keep your torso warm it maintains body heat overall.
Gilets are great for the job, and there are loads of styles for both men and women.
7. Every man, woman and child's best friend is a sheep
Okay, we know they love knitwear but Scandinavians love anything sheepskin too. Sheepskin rugs, gloves, hats – real sheepskin has a warming effect in winter and cooling in summer and has natural antibacterial properties.
Give your feet a fighting chance by popping some sheepskin insoles inside your winter boots and shoes. These ones from Celtic & Co (£12) look like walking on clouds – warm ones!
8. Scandinavians get their camp sorted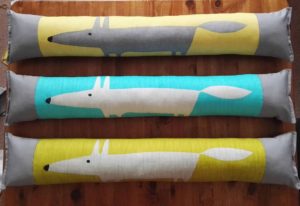 We are talking proper survivalist stuff, like tin foil behind the radiators, secondary glazing on old windows (if double glazing is out of the question) and chimney balloons up open chimneys. Sort out draughts and you will save yourself money as well as aches and pains.
If all of that sounds like too much effort at least get yourself some draught excluders. Stuff an old pair of tights with unwanted chopped up fabrics (old towels, socks, etc) to make your own or buy yourself a jolly nice foxy one like these, made by MidCentury Boutique UK and sold on Etsy.
9. Scandinavians have nailed winter food & drink
The Scandis look so ruddy-faced and healthy literally all of the time! They don't take winter lightly, and that's especially true when it comes to stocking up on nutritious food throughout the year to get them through the snowy months. The native style is to pickle stuff because it keeps longer.
Unless you're partial to pickled herrings, you might be better making sure you get your flu jab (ask your GP) and keeping a hand sanitiser in your bag to help fight off winter bugs.
In other tips about winter food stuffs: ginger tea has warming properties, caffeine the opposite, a porridge breakfast is a good idea, and keep a stash of ready meals in case bad weather keeps you indoors. It's easy to overeat, too, when it's cold outside, but do your best to resist as carrying extra weight will put extra strain on your joints. Read more about nutrition for arthritis here.
Chat about this in our Facebook group

10. Scandinavians stay active
Scandinavians enjoy a very active outdoorsy lifestyle – competency at winter sports is practically in the genes – and it helps to keep them fit and strong in the winter. They even have an annual Wife Carrying Competition – a tradition you might wish to try very carefully or, better still, avoid completely!
It might be harder for you to be as active as the average Scandinavian, but it's vital that you do some exercise every day to help keep joints moving and fight off stiffness. If it's too cold outside, even with your fancy new base layers and warm footwear, walk inside instead. Take a little stroll around a museum or a shopping centre, or do ten laps of the living room. Do what is safe to do within your limits. Read more about exercising with arthritis here.
11. Scandinavians are ready for Winter Blues
In some parts of Scandinavia, it can literally stay dark for weeks on end, and this can have a natural depressant effect and sap energy.
As a consequence Scandinavians don't take chances with their mental health and have built into their lifestyles and culture things that lift the spirits, such as a focus on eating together and celebrating festivals (they love a national holiday), as well as having a generally accepting approach to using aids such as daylight lamps to help combat Seasonal Affective Disorder and anti-depressants when needed.
Give your emotional health as much TLC as your physical health in the winter by doing more of what makes you happy. If you feel you need help with your mood, do talk to a friend, your Rheumatology nurse or GP. Help is at hand.
If you feel even more drained of energy and fatigued in winter visit our dedicated section Tackle Tiredness Today.
12. Boy, do they like a hot tub
Is there anything more comforting than a hot bath on a cold day? Well, yes there is, in my opinion – hitting an outdoor hot tub with a handful (and eyeful!) of hunky Swedish dudes.
If you're short on Swedes, pop some bubble bath with warming ingredients in the tub instead to soothe aching joints. Ginger is thought to be warming.
Avoid cheap bath oils which can leave surfaces slippy and don't bathe too close to going out as dilated blood capillaries lose heat more quickly.
Fireside Bath & Shower Gel by Noble Isle claims to conjure up associations of being snuggled on the sofa by an open fire. Yes please!