Last reviewed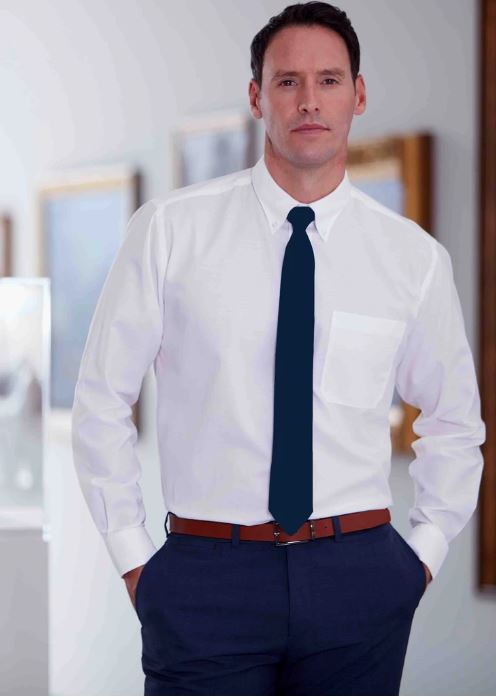 If you work in one of those offices where you're still required to wear a shirt (and not a super-cool media agency with a uniform of ripped jeans and vests) then you may be familiar with the pain of wrestling with stiff buttons.
Well, there's some good news for you – The Able Label has launched a menswear range, including shirts that look like the real deal but have touch closures, non-iron clothing, clip-on ties and Velcro-fastening belts.
These aren't designed to look like something your grandpa would wear; they actually look good.
Katie Ellis, Director of The Able Label, says: "There is certainly a stigma around 'adaptive clothing', perhaps as a result of some of the hideous options which have previously been the only options available.
"We are trying to break down these stereotypes and want to prove to people that you can have fashion and function from your clothing now."
Adaptive clothing takes into account the difficulties people may have with buttons, zips, and movement.
"Buttons and zips can be a nightmare," says Katie. "This is especially so if the joints in your fingers are swollen and sore, particularly in the mornings or evenings when you're most likely to get dresses or changed.
"It can also be a real challenge to get items over your head if you have stiffness or reduced movement in your shoulders. The Able Label clothing takes all this and more into consideration when designing and making our clothes unlike other retailers.
"If you work, we have smarter shirts available that are non-iron saving you time and energy not only dressing into the clothes, but also laundering them too! I don't know anyone who enjoys ironing their shirts!
"We also cover accessories including clip-on ties and velcro fastening belts which can be a nightmare to get on and off but are an essential part of someone's work uniform."
So will other people be able to tell that you're wearing 'adaptive clothing'?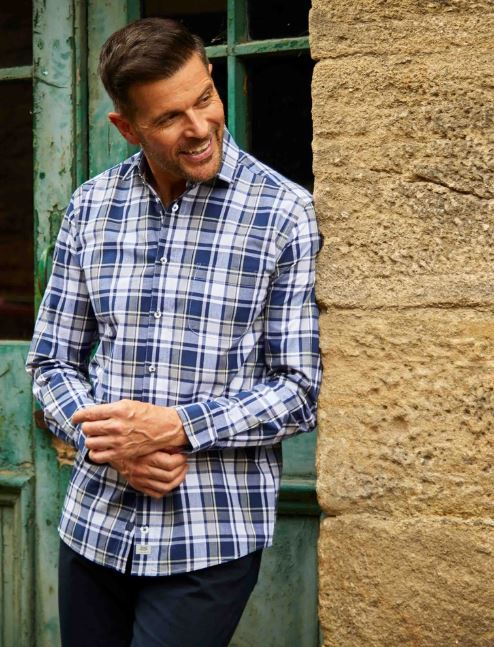 "We aim to make our clothes as discreet as possible," says Katie. "For example, where we have touch closures used to fasten our shirts, we still apply buttons so that they look like a regular shirt but actually have the added benefit of being easier to dress. When designing the clothes, it is just as important to us that they look great as well as being functional."
The Miles Check Shirt and Spencer Trousers are proving particularly popular for younger guys – but if there are any other products you'd like to see on the market, The Able Label is keen to look at more clothing for younger people. "We only launched menswear two months ago so there's still so much scope for us to grow and develop, especially as we've had such a great initial response to the range so far," says Katie. "With the collection being so new, we have to start with a commercial range and then we can layer on from this. We are still looking for further feedback from the current collection and are very open to suggestions for improvements including items people would like to see added."
If you want to give The Able Label a go, as an Arthur's Place reader you get 10% off your first order! Just go to www.theablelabel.com, and use the code ARTH10 at check-out. This offer is available until March 31st, 2020.
If you're looking for some lower-cost options, or have a favourite shirt you can't bear to be parted from, it is possible to adapt your own clothes. Or rather, ask someone who is super-handy with a needle and thread to adapt them for you! Check out this video here which shows you how to adapt a button down shirt so it can be secured with magnets: https://www.youtube.com/watch?v=LUmkzJ0LsSo
And if you're looking for more tips and tools which can help you get dressed more easily in the morning, do have a look at our Life Hacks playlist on YouTube, on your very own Arthur's Place TV channel.
For more info on The Able Label go to www.theablelabel.com
How useful was this post?
Click on a star to rate it!
We are sorry that this post was not useful for you!
Let us improve this post!
Thanks for your feedback!