Last reviewed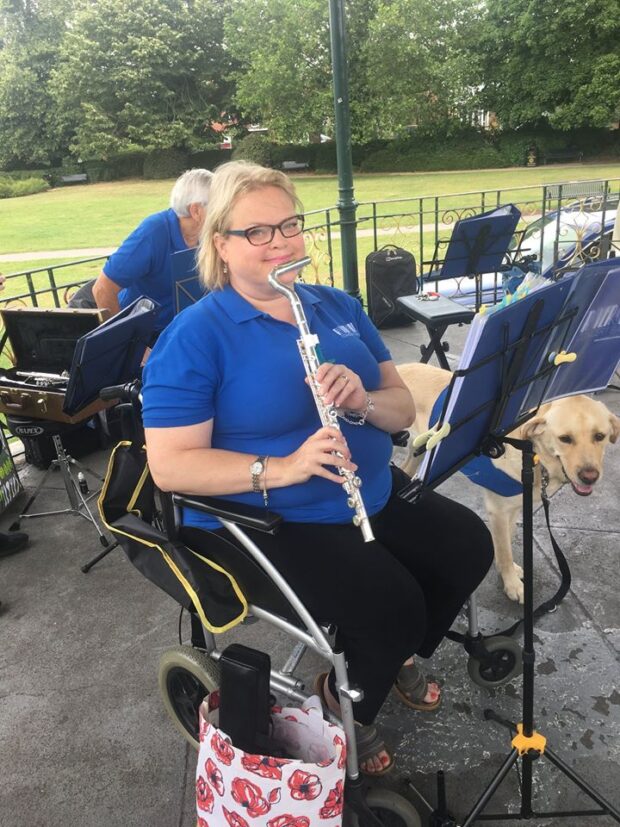 Music is one of the hobbies we can still enjoy during lockdown – and if you play or sing, then virtual orchestras have been popping up all over the world.
Arthritis can make playing an instrument more difficult, but Jenni has shown it can be done, with the help of charity Music for All.
Shoulder pain was preventing Jenni from enjoying playing the flute, until she contacted the charity and they provided her with a vertical head joint.
Jenni, now 44, has been playing the flute since she was eight years old, and was diagnosed with rheumatoid arthritis in her last year of university.
"I went to Winchester for university to learn to do primary teaching and did Music as my main subject," she says.
"I got sick in my last year at university and got rheumatoid arthritis. I taught primary for nine years and then took medical retirement as my arthritis became more severe."
Jenni had a child, who is now 12, but her arthritis got worse. She got a powerchair for mobility and in 2014 got a canine partner.
"Volunteering at the children's centre and for Canine Partners took a lot of my spare time," says Jenni. "Following many years without successful treatment, 17 different drugs and combinations, I tried a new drug called Tofacitinib. It worked!
"I started working again during 2018 and joined a local concert band – The Riverside Concert Band.
"I now do digital marketing for a local charity and teach some children who have SEN from our accessible home.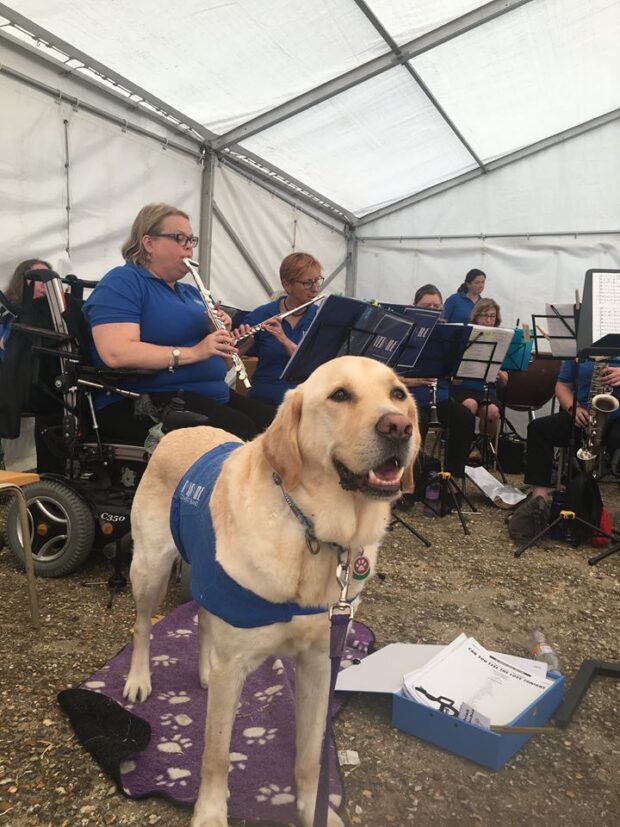 "When I joined the band I just arrived in my wheelchair with my canine partner. We must have been a bit of a surprise! But I said 'I play the flute, he doesn't!' Everyone laughed and I was in!
"I hadn't played properly for many years. I found the shoulder and neck position hard to maintain so I started out with an arm support devised by REMAP. The shoulder was still painful so I started to look if there was an alternative.
"I contacted Music for All and explained I had seen a vertical head joint. They knew immediately what I was talking about and applied for the funding. They ordered the special head joint.
"One of the things the charity was impressed with was that I play with a community concert band, not a specialist group for disabled people.
"I was over the moon when it came and I am really used to it now. It took a few weeks to get the hang of it fully. I play regularly in our local band and participate in our church worship group. My flute is a little celebrity all her own!"
Music for All helps many people with disabilities to access music, including with specialist equipment if it is requested.
In 2018, Music Makers, Music Educators and Music Retailers participated in a major research project aiming to capture a detailed, national picture of the experiences of disabled people regarding music making.
This research was published by Creative United, in partnership with OHMI, Drake Music, Open Up Music and Youth Music. The research led to a pilot project to make music teaching more inclusive, with Music for All providing a number of adapted instruments.
These included a one-handed clarinet, especially designed for people with physical disabilities, which was provided to Year 6 pupil Redeem. The clarinet is one of only two in the world currently but allowed Redeem to play the full range of notes that his peers can.
For more information about the research and pilot project, go to: https://www.mia.org.uk/2020/02/adaptive-musical-instruments/
Do you play a musical instrument? How have you managed your arthritis while playing? Tell us your stories – email us at jenny@arthursplace.co.uk
If you enjoyed this article, you might like Charlie's blog post: A musical distraction
How useful was this post?
Click on a star to rate it!
We are sorry that this post was not useful for you!
Let us improve this post!
Thanks for your feedback!